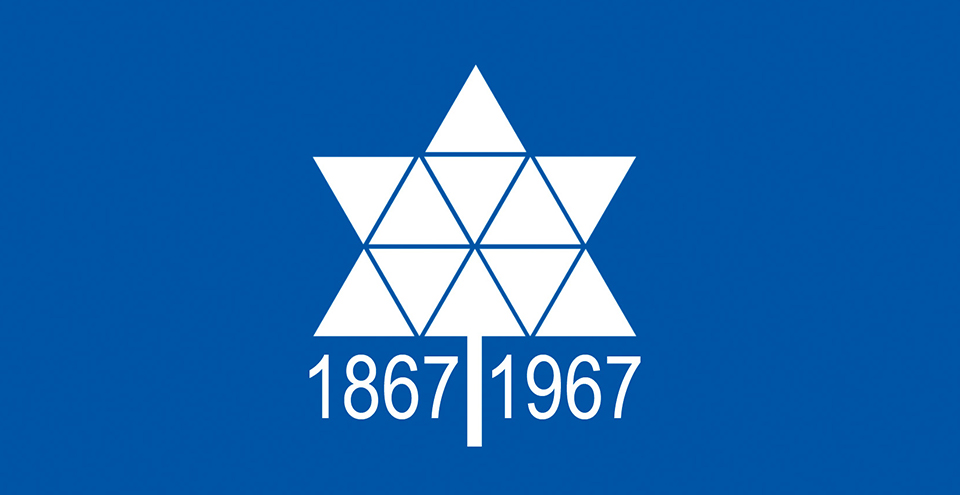 If you are Canadian and are of my generation, or older, you probably remember some of the celebrations and festivities that occurred in 1967, the year we commemorated the 100th anniversary of the Confederation of our country. With our 150th birthday less than two weeks away, I couldn't help but think back to the spring and summer of 1967.
I was eight years of age back then and in grade four at R.I. Baker School in Coaldale, Alberta. It was during art class where our teacher, Mrs. Henderson, provided her students with the paper, pencils, crayons, and rulers to draw the official Centennial logo. I was not artistically inclined and struggled to make all the triangles appear equal in size.
The logo was designed by Stuart Ash, a graphic designer working in Montréal. The symbol was in the shape of a stylized, multi-coloured maple leaf constructed from 11 equilateral triangles representing Canada's 10 provinces and the North West Territories – the accepted geography of our country at the time.
Special Events
There were all kinds of events throughout the country to mark Canada's Centennial year. Many cities, towns, and communities embarked on special Centennial projects. New parks and playgrounds were opened. Libraries, theaters, art galleries, and other buildings were constructed. Musical concerts, parades, and sporting events took place. The year-long festivities were launched at midnight on December 31, 1966, at a ceremony on Parliament Hill in Ottawa, where the Centennial Flame was lit by Prime Minister Lester B. Pearson. Cities and towns across the country also held fireworks, bell-ringing, and torch lighting ceremonies. The Centennial Flame was erected as a temporary monument, but due to great public support, it was not dismantled. The flame continues to burn to this day.
Medals & Souvenirs
A Centennial Medal was introduced on July 1, 1967. They were presented to individuals who had made a valuable contribution to the country. About 30% of the 29,500 medals issued were awarded to members of the Canadian Armed Forces. In addition, Centennial Coins of each denomination were minted and put into circulation. Two commemorative versions of the $1 bank note bearing the Centennial logo were also produced. One of these, shown below, featured the dates 1867 1967 in place of the serial numbers. There were 12 million of these notes printed. They were meant for collectors but quickly made their way into circulation.
Centennial Train & Caravans
A special Centennial Train traveled across the nation, stopping in larger cities and centers along the way. There were six exhibit cars attached to the train, where you could see a variety of displays depicting the history of Canada. For those who did not live close to where the train stopped, there were Confederation Caravans which visited small towns and communities. These consisted of eight tractor-trailers and carried essentially the same exhibits as the train. When set up, they were connected together, so you could walk through each of them to view the numerous displays. I remember going to see the Caravan when it arrived in my hometown. It was parked at the school, just down the street from where I lived. There were lots of neat things to see inside, including murals and dioramas with life-size figures, such as the frontier gold digger shown in the photo below.
World's Fair
Without question, the highlight of our Centennial year was Expo 67. The World's Fair was hosted by the city of Montréal, with 62 countries participating. The theme of the fair was Man and His World.
On April 27, 1967, Prime Minister Lester B. Pearson lit the Expo flame to open the International and Universal Exposition. "This is a proud day for Montréal, for Québec and above all for Canada," said Pearson at the opening ceremonies. He continued his speech by saying, "But Expo is much more than a great Canadian achievement of design and planning and construction. It is also a monument to man. It tells the exciting and inspiring story of a world that belongs not to any one nation but to every nation."
The opening ceremonies were an invitation-only event. On hand were over 7,000 invited guests, including 53 heads of state. It was broadcast live via satellite to a worldwide audience of over 700 million viewers and listeners. The exposition opened to the public the following day, April 28, and ran for six months. It closed on October 29. It had been scheduled to close two days earlier but a two-day extension was granted to allow it to continue over the weekend.
Celebrities at Expo
More than 50 million people attended Expo 67, an incredible number considering the population of Canada was 20 million at the time. The fair attracted many foreign dignitaries, famous actors, celebrities, and musicians. The Ed Sullivan Show was broadcast live on May 7 and May 21, with performances by Diana Ross and The Supremes, Petula Clark, and The Seekers. Other notable Expo 67 visitors were Queen Elizabeth II, U.S. President Lyndon B. Johnson, President Charles de Gaulle of France, Princess Grace of Monaco, Jacqueline Kennedy, Robert F. Kennedy, Bing Crosby, Harry Belafonte, Maurice Chevalier and Marlene Dietrich. The Canadian comedy duo of Johnny Wayne and Frank Schuster were there, too!
Centennial Songs
The official Expo 67 theme song, "Hey Friend, Say Friend," was composed and written by Stéphane Venne, a French-Canadian songwriter/composer. In French, the title of the song is: "Un Jour, Un Jour." The song was selected from an international competition with over 2,200 entries from 35 countries. It was recorded in both of Canada's official languages, English and French. Two Quebec-based singers, Donald Lautrec and Michèle Richard, released recordings of the song.
The song most people associate with Expo 67 was the popular Centennial tune "Ca-na-da." It was written by Robert "Bobby" Gimby, a musician and songwriter, who also worked for an advertising agency, writing jingles for commercials. The bilingual song was performed by the Young Canada Singers, using two groups of children – one that sang the French lyrics, and another that sang in English. It received a lot of airtime on radio and television, and we all enjoyed singing along whenever it was played. Throughout 1967 it remained at the top of the Canadian music charts.
Bobby Gimby was also known as The Pied Piper of Canada, because of his popularity with children. He often participated in events where he would lead a parade of singing children to a county fairground, before performing for the fair's attendees.
Looking Back
When I think back on our Centennial year, the Ca-na-da song is one of the first things that pops into my mind. It was a great time in my life and listening to the song today brings back lots of happy memories.
As an eight-year-old kid growing up in a small prairie town in southern Alberta, I never gave the year 2017 a second thought. But here we are, 50 years later. The 150th anniversary of Confederation will soon be upon us. I'm sure there will be plenty of memories of this event for those who will be here to celebrate Canada's Bicentennial in 2067.
To listen to the songs, Canada and Hey Friend, Say Friend, click on the playlist below. The lyrics to the Canada song are at bottom of the page. Please feel free to join in!
If you were around in '67, what memories do you have of our Centennial year?
Article References & Credits
Bank of Canada
Expo 67 Official Guide
CBC Digital Archives
Library and Archives Canada
The Canadian Encyclopedia
The Online Canadian Paper Money Museum
Wikipedia
Photos
CBC Digital Archives:
Prime Minister Lester B. Pearson
National Archives of Canada:
Ed Sullivan at Expo 67
Bobby Gimby – Canada's Pied Piper
Toronto Public Library Digital Archive – Toronto Star Photographic Archive:
Confederation Caravan frontier gold digger display
Canada Lyrics
CA-NA-DA
(One little two little three Canadians)
We love thee
(Now we are twenty million)
CA-NA-DA
(Four little five little six little Provinces)
Proud and free
(Now we are ten and the Territories sea to sea)
(Chorus):
North south east west
There'll be happy times,
Church bells will ring, ring, ring
It's the hundredth anniversary of
Confederation
Ev'rybody sing together!
(French verse):
CA-NA-DA
(Un petit, deux petits, trois Canadiens)
Notre pays
(Maintenant, nous sommes vingt million)
CA-NA-DA
(Quatre petites, cinq petites, six petites provinces)
Longue vie
(Et nous sommes dix plus les Territoires; Longue vie)
(Second Chorus):
Rah! Vive le Canada!
Three cheers Hip, Hip, Hooray!
Le centenaire,
That's the order of the day
Frère Jacques Frère Jacques
Merrily We Roll Along
Together all the way
(Repeat second chorus)