Saturday is July 1st – Canada Day! We'll be celebrating our 150th birthday, the Sesquicentennial Anniversary of our Confederation. Until recently, I was not familiar with the word sesquicentennial. It's not a word you hear every day and it's certainly not easy to pronounce, either.

Last week, I posted an article here about Canada's Centennial in 1967. I covered some of the events that occurred in Canada that year, including Expo 67. I also talked briefly about the logo selected to commemorate the 100th anniversary of Confederation.
Canada 150 Logo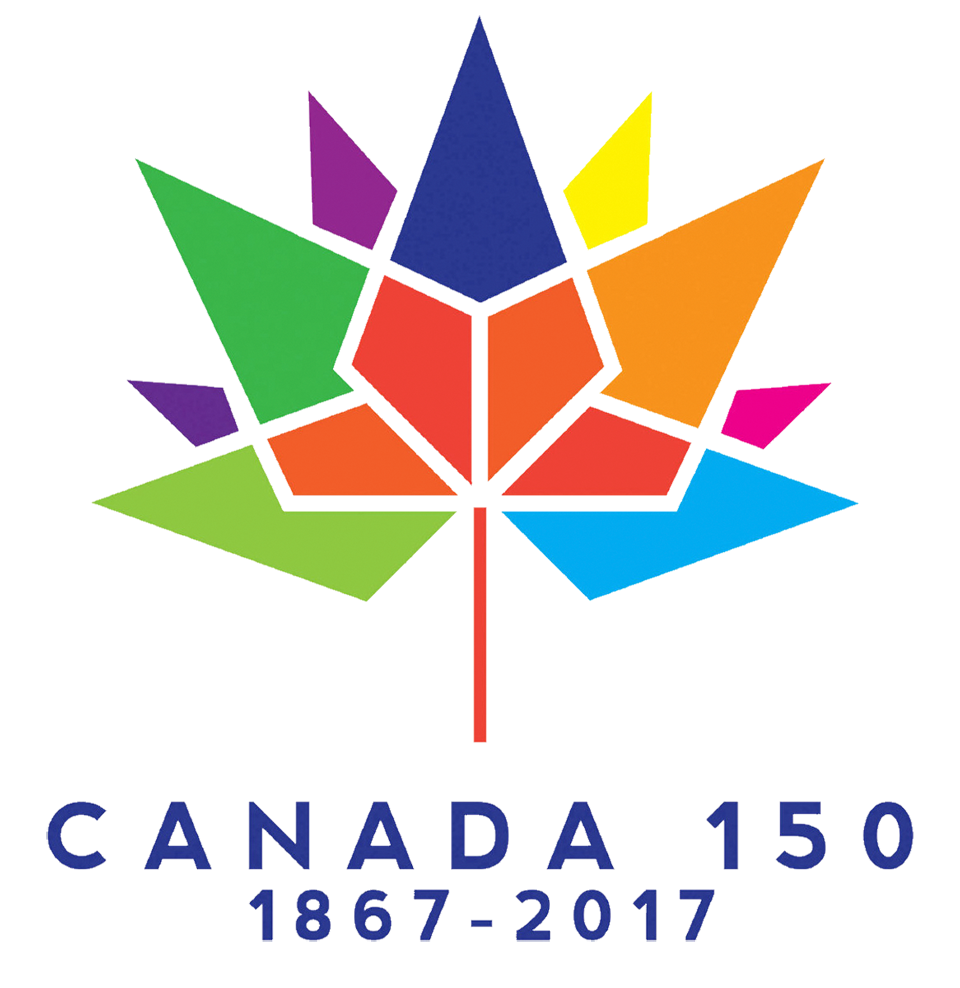 The Canada 150 logo was designed by Ariana Cuvin, a 19-year-old University of Waterloo business and digital arts student. Her submission came out on top in a design contest conducted by the federal Department of Canadian Heritage to create a logo for Canada's 150th anniversary. The contest was open only to students, and the government did not allow submissions from graphic design professionals.
The winning design is similar to the 1967 Centennial logo, which is a maple leaf made of multi-coloured triangles.
As for Cuvin's design, she says she went with the maple leaf because it's the nation's most iconic symbol. The base of the Canada 150 logo is made up of four diamonds, with nine more expanding outwards – to signify the four provinces that formed Canada after Confederation in 1867, eventually growing to 10 provinces and three territories. The repeated shape is meant to create a sense of unity and the 13 shapes forming the leaf represents our togetherness as a country. In the coloured version, the centre four diamonds are similar in colour. From left to right, similar colours are used in a row to show the provinces and territories that joined Canada in the same year. The multi-coloured version gives a feeling of diversity while the red one shows pride and unity.
Expo 2017
If you are wondering about Expo 2017, there is one currently taking place, but it's not in Canada. For a time, the city of Edmonton considered bidding on hosting the event. However, the organizers did not receive the federal funding they required and in the end, they did not apply. This year's World's Fair is being held between June 10 and September 10 in Astana, Kazakhstan.
Canada 150 Souvenirs
You won't have a hard time finding a special memento or Canada 150 keepsake, as they can be purchased everywhere. Whether you are filling up your vehicle at a gas station, ordering a double-double at Tim Hortons, or shopping at a big-box store, there is no shortage of merchandise to choose from.
The shelves of every gift shop in all the tourist areas across the country, including those in our national parks, are well-stocked with commemorative flags, banners, t-shirts, ball caps, coffee mugs, stuffed toys, key fobs, and bottles of maple syrup. You can't get more Canadian than maple syrup – eh!
Other Canada 150 items available include a commemorative postage stamp by Canada Post, collectible coins by the Royal Canadian Mint, including one that glows in the dark, and a new $10 bank note released by the Bank of Canada.
Canada-wide Celebrations
There will be parades, concerts, fireworks, and plenty of other events across the country this weekend, so it will be easy to find something interesting to do regardless of where you are. Celebrations will also be taking place on Parliament Hill in Ottawa. Included in the Canada Day festivities on July 1 is the opening of the new Canadian History Hall at the Canadian Museum of History in Gatineau, Québec.
Crowsnest Pass Celebrations
Canada Day celebrations in Crowsnest Pass include a pancake breakfast and parade in Coleman on Saturday morning, along with special events all day at Flumerfelt Park. If you will be in the Pass this weekend, you may want to tour the newly-opened Alberta Provincial Police Barracks in Coleman. This is where Constable Steven Lawson of the APP was shot and killed on September 21, 1922, during a confrontation with a well-known local bootlegger, Emilio "Emperor Pick" Picariello, and his accomplice, Florence "Filumena" Lassandro.
The barracks, originally constructed in 1904, are a historic site and have been completely restored. The building will serve as a museum and interpretive facility, containing exhibits on The Alberta Provincial Police and the prohibition era in Alberta and Crowsnest Pass. They are conveniently located two doors down from the Crowsnest Museum, at 7809-18 Ave., Coleman. Admission to both places is by donation this weekend. Click here, for a list of some of the events taking place this weekend in Crowsnest Pass.
In 25 years, we will celebrate 175 years of Confederation, our Demisemiseptcentennial anniversary. That will be even more difficult to say than Sesquicentennial. It will become much easier to pronounce in 50 years (2067) when we reach our Bicentennial year.
In the meantime – Happy 150th Birthday Canada!
Article References & Credits
Bank of Canada – $10 Bank Note image
Photos
Crowsnest Museum:
APP Barracks – Coleman, Alberta (B&W image)