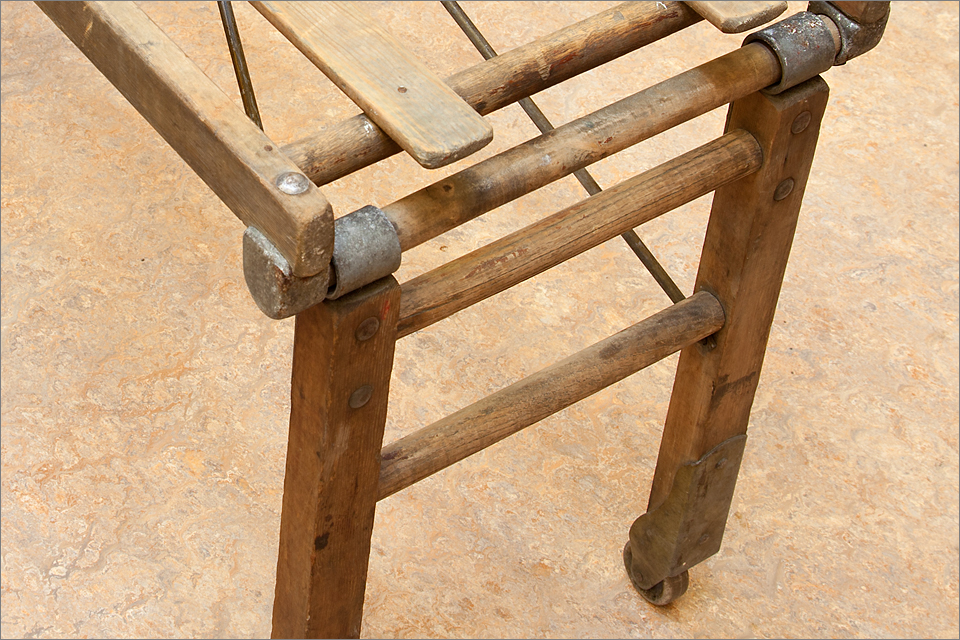 Several weeks ago, I stopped in at a garage sale at a local church near my home. The sale is held twice a year – once in spring and again in autumn. All of the items are donated. Nothing is priced, and if you find something you like, you simply make an offer. If it's a reasonable amount, it's yours.
There were a number of tables set up outside the church, with everything from tools to kitchen appliances and knick-knacks on display. I rummaged through several boxes of books, then made my way over to the used furniture section, where an elderly gentleman had just negotiated a price on a nice, vintage steamer trunk. While helping the man load his purchase into the back of his pick-up, I noticed something lying unassembled on the ground, close by. It was made of wood – oak and pine, with metal fittings. You could tell it had some age, but what was it? Someone thought it was an old stretcher, maybe from World War One. I wasn't so sure and asked whether I could set it up. By this time, several more people had gathered around and were providing advice with its assembly and trying to guess what the object might be.
It only took a minute or two before the piece was standing upright. Lo and behold, it was a wooden bench with hinged folding legs, fitted with castors. Stenciled along the front of the frame was the name of the manufacturer – "Beatty Bros. Fergus, Canada." The other side read, "BT Tub Bench Patented 1923." The mystery was solved – it was a folding washtub bench. Rather than being a stretcher used to carry wounded soldiers off the battlefield, it was used in the kitchen to battle dirty laundry. You can't get any more utilitarian than that! I was interested in the bench and upon negotiating a price, it was in the back of my pick-up.
While trying to decide what I was going to do with the tub bench, I went online to see what I could learn about the company that made it.

Beatty Brothers Limited was founded in Fergus, Ontario in 1874 by brothers George and Matthew Beatty. In the beginning, they manufactured farm implements, barn and stable equipment, churns, ladders, and agricultural machinery. By the early 1910s, the company had expanded its product line to include washing machines. In the 1920s, they were selling their products throughout Canada, the United Kingdom, Australia, and New Zealand. During this time, Beatty Brothers were constantly promoting their electric washers by offering incentives, consisting of free merchandise and interest-free payments. With the purchase of a $160 Beatty washer, with only $1 down and 16 months to pay, you could choose four additional washday appliances at no extra charge. Among the free choices were an ironing board, electric iron, clothes rack, clothes basket, step ladder, ceiling dryer, rinsing tub, and a tub bench. The extras alone were worth $18, with the tub bench valued at a retail price of $7.50. They even had miniature versions of these premiums to give to the "kiddies."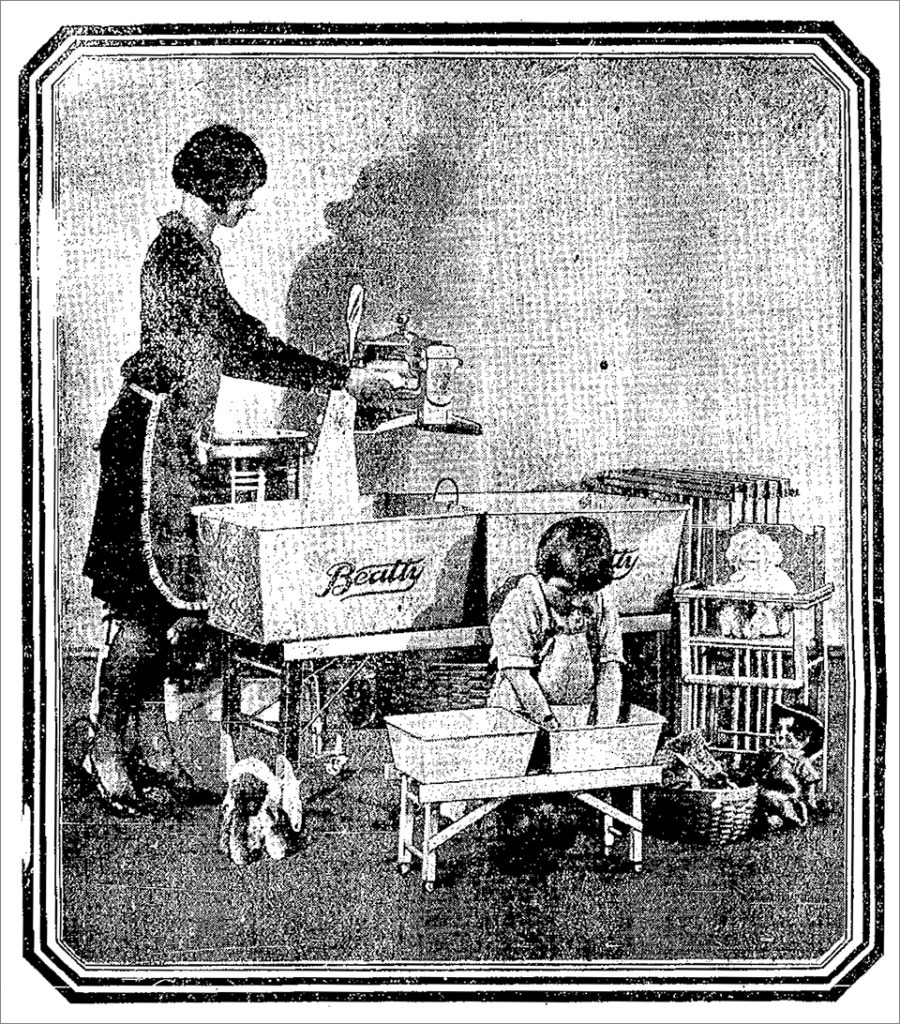 The company that George and Matthew Beatty founded in 1874 remained in operation until 1969, when it amalgamated with General Steel Wares to form GSW Limited.
The tub bench I acquired a few weeks ago was likely a freebie for someone in the 1920s. It might have come from a Beatty retailer in Crowsnest Pass such as Arthur E. Ferguson of Blairmore. Along with being an agent for Beatty washers, Ferguson was also the manager of Crow's Nest Undertaking Company, with parlors in Blairmore and Coleman.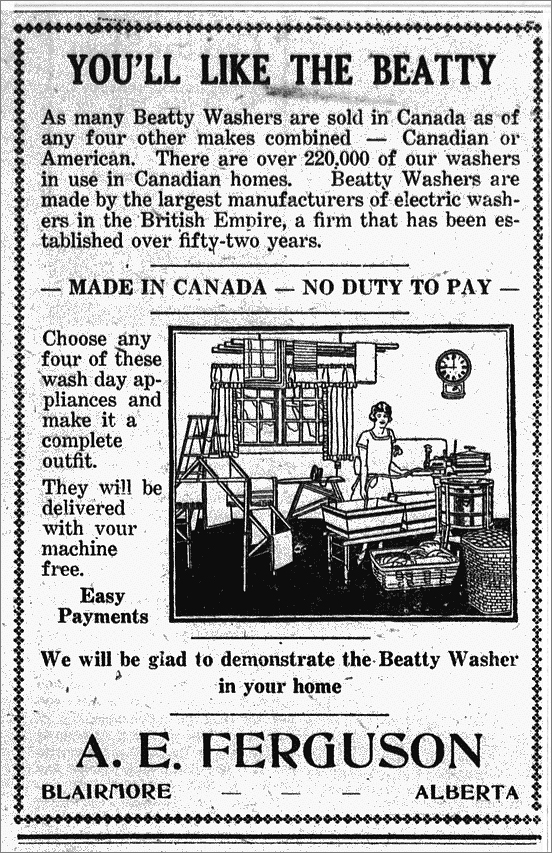 Once I removed the decades-old dust and dirt from the bench and applied a couple of coats of tung oil to the wood, I realized it could easily be repurposed into a coffee table. All it needed was a piece of glass for the top and a place to set it up at home.
While working on this project, I kept thinking of the expression, "What's old is new again." Sometimes, you just have to figure out what the "old" is before you can turn it into something new.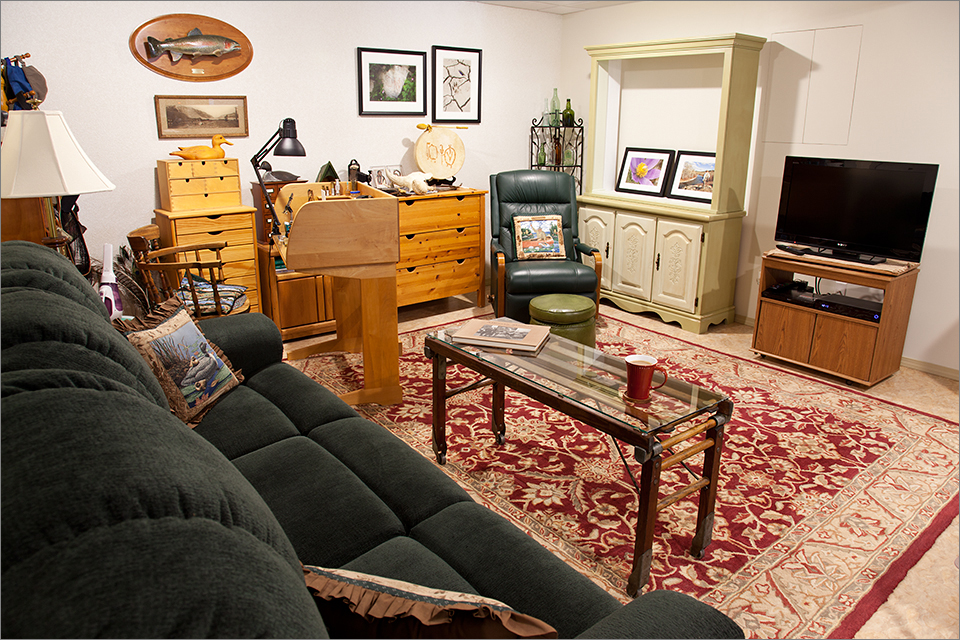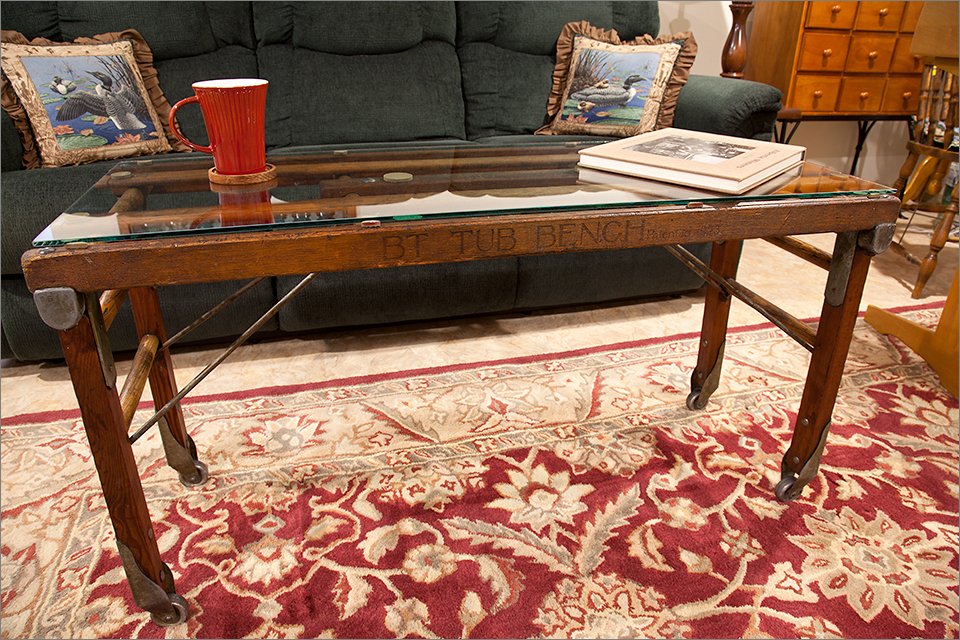 Article References & Credits
The University of Alberta – Peel's Prairie Provinces (Blairmore Enterprise)
Digital Newspaper Archives (Lethbridge Herald, Winnipeg Free Press)
Wikipedia