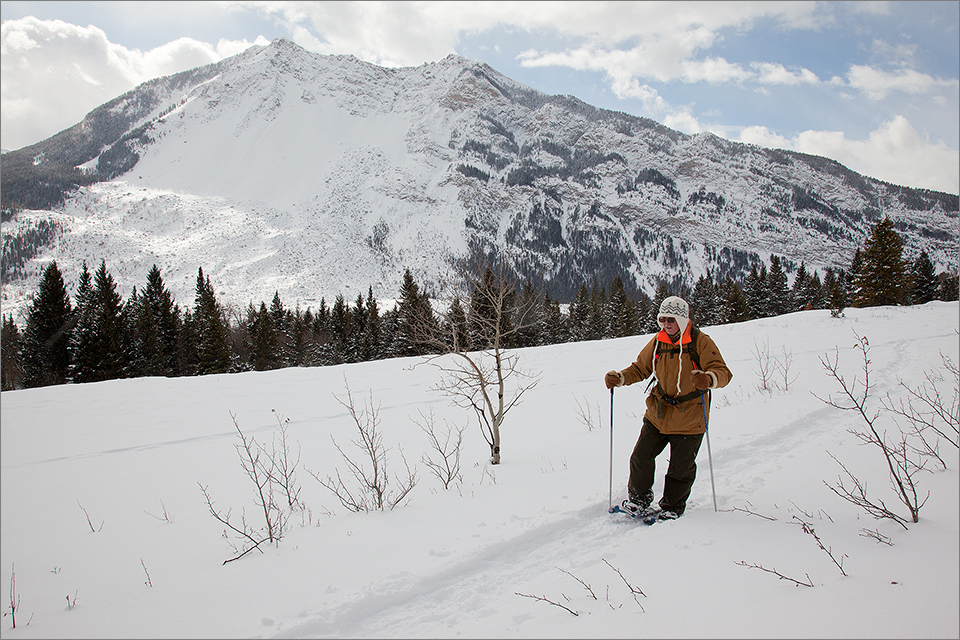 In early January, I posted an article here of a snowshoeing trip I made along Allison Creek, west of Coleman in Crowsnest Pass. Since then, we've received a pile more snow in the Pass. Warm Chinook winds that often blow over the Rockies from the Pacific have been few and far between this winter. As a result, there has not been a lot of melting going on. Street corners and boulevards in our towns are lined with snowbanks, piled ten feet high in places. Backyards and front yards are filled to capacity. Everyone is running out of space to put their snow. For the past two months, there's either been too much snow for me to shovel on my days off, or it's been way too cold outside to even bother getting out on my snowshoes. All that changed a couple of days ago when I was able to go for another walk in the woods.
This time, the location for my snowshoeing adventure was the area north and east of the Frank Slide Interpretive Centre. I spent most of the afternoon following a small portion of the Crowsnest Community Trail. The 23-km, non-motorized route connects each of the communities of the Municipality of Crowsnest Pass together. I like coming here because it's quiet, peaceful, and the views are awesome. It's also a great place to bring a camera.
The temperature was -1°C when I arrived at the Interpretive Centre's parking lot, and it didn't budge all afternoon. Within a few minutes, I had strapped on my snowshoes and was on my way. It appeared no one had been on the trail for at least a day or two and I had the place to myself. The snow off to the side of the trail, and in the trees, was much too deep to snowshoe easily. Without a partner to help break trail, you have to plug away on your own in these spots. It's great exercise but can be exhausting. I decided to stick to the packed trail, instead. Call me a wimp, but I'm saving my energy for the next snowfall. I'm sure there will be more snow to shovel before spring arrives. Hopefully, we'll get a Chinook or two before then!
Below are a few more photos of the day and comments.
The Crowsnest Community Trail is maintained by the Municipality of Crowsnest Pass. Click here to view and download a pdf trail brochure and map.
Article References & Credits
Municipality of Crowsnest Pass – The Crowsnest Community Trail Brochure & Map