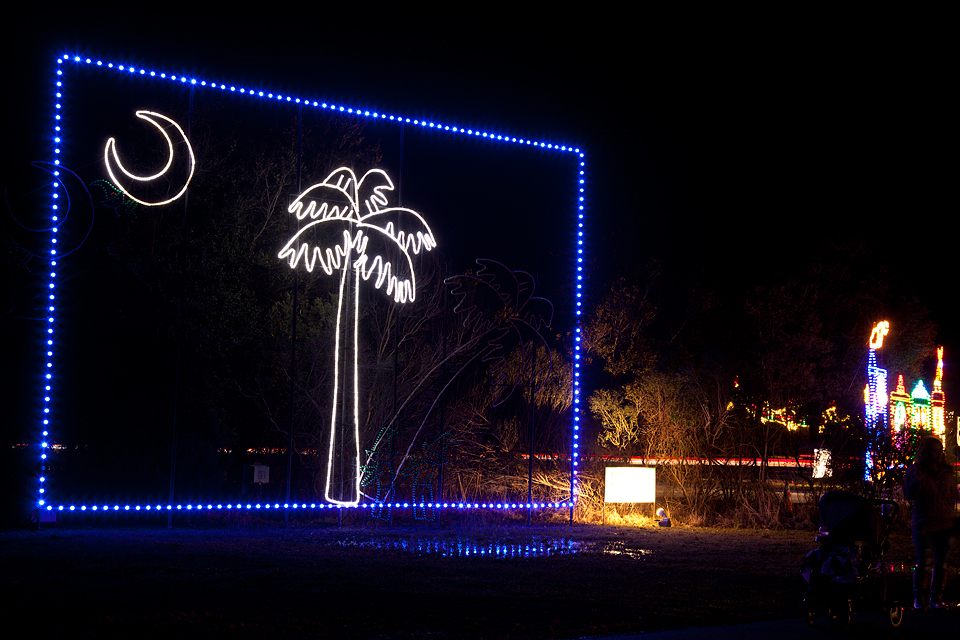 South Carolina is steeped in history, culture, and tradition. It's an amazing place to visit, with lots of interesting and exciting things to see and do. Last time, I shared some photos and stories of our recent trip to the Palmetto State. Below, is the conclusion of this blog post.
Beaches
There are several beaches located within minutes of where we were staying in Mount Pleasant, and we visited them a few times. We tried to plan our arrival to coincide with low tide, as this would be better for walking the shoreline.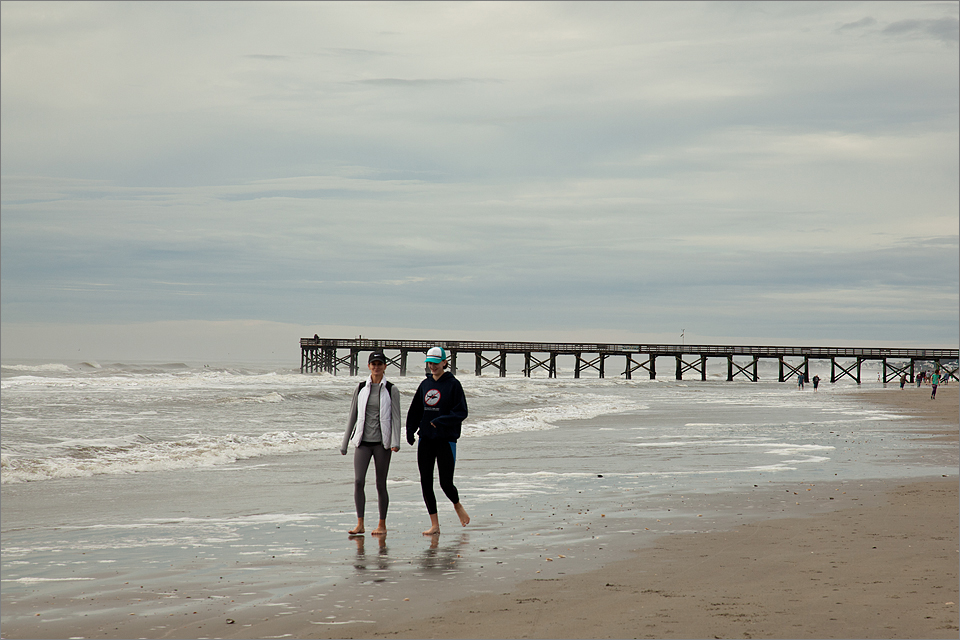 The Isle of Palms, with its 10 kilometers (6 miles) of sandy beaches, provides plenty of space for everyone to enjoy the ocean view. As we were strolling along the shore, we watched paddle boarders and surfers catching some waves, while far off in the distance a shrimp trawler was plying the waters along the coastline. We may have seen the same boat several days earlier, docked at Shem Creek in Mount Pleasant.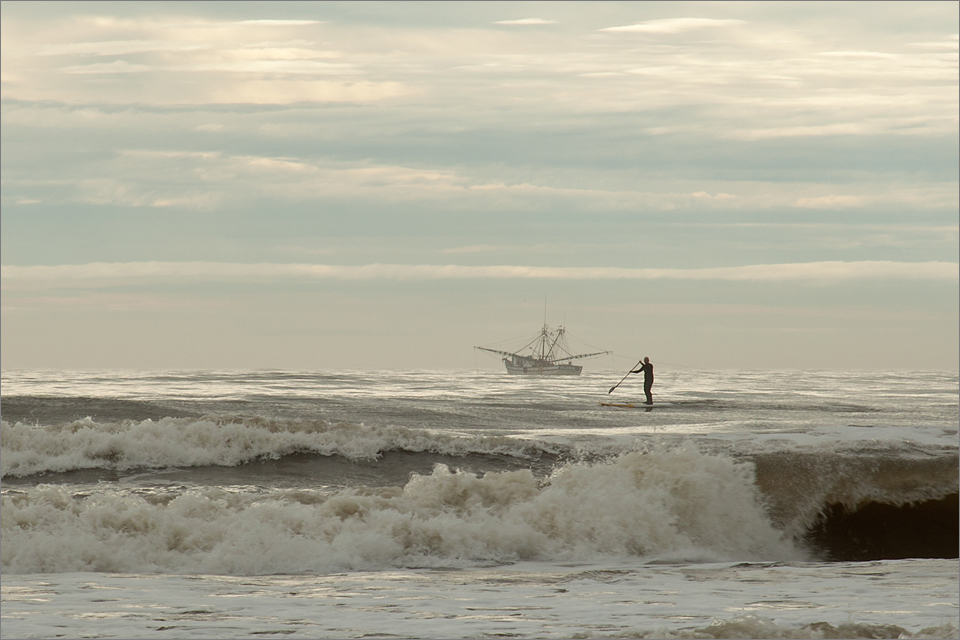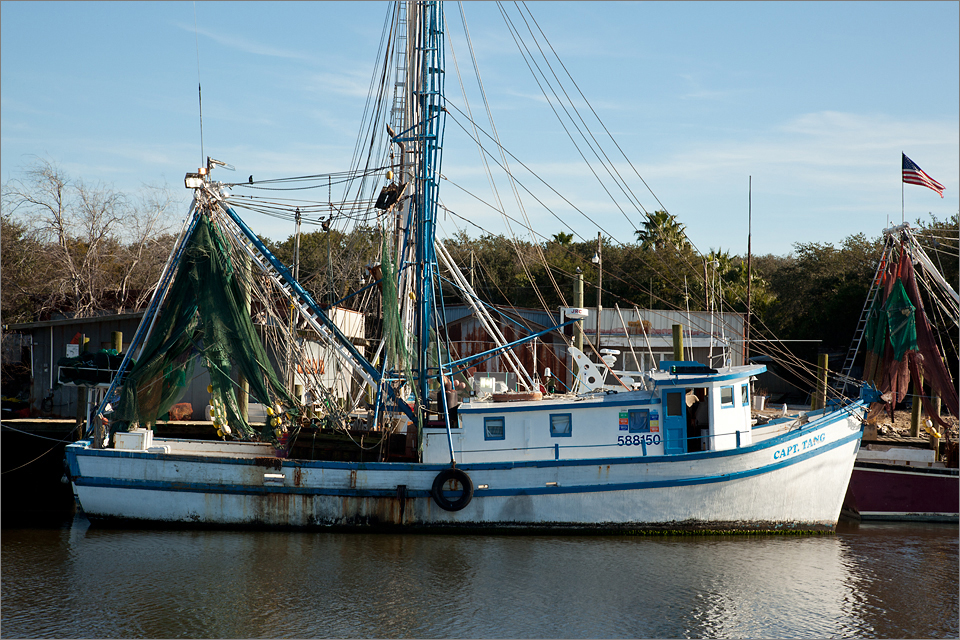 Sullivan's Island also has a great beach, and we came here New Year's Day to watch the annual Polar Bear Plunge, a fundraiser for the Special Olympics athletes of South Carolina.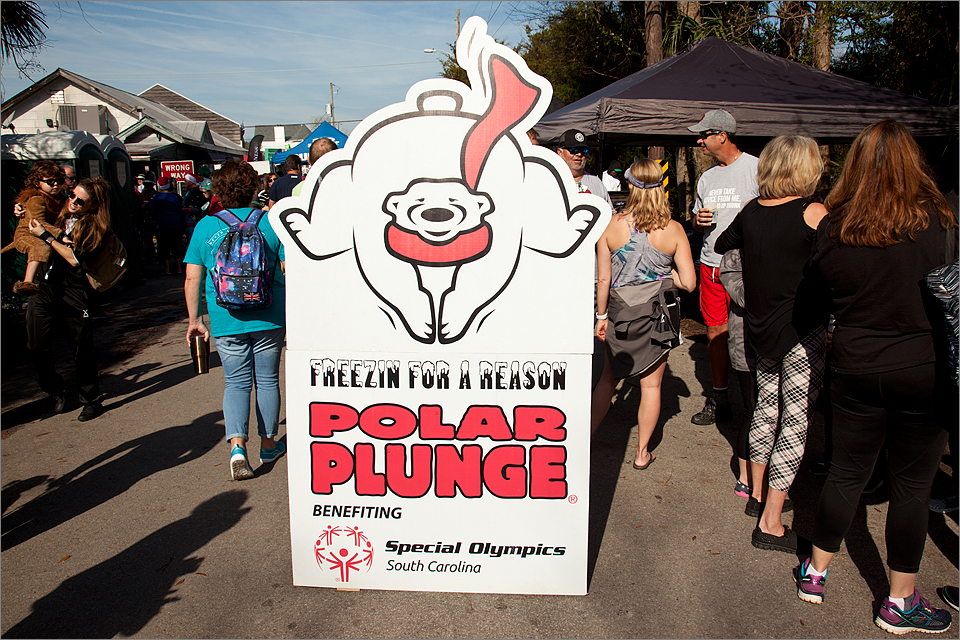 Hundreds of people, many dressed in costumes, raised close to $15,000, by running en masse into the Atlantic Ocean. It was plenty warm enough outside, around 21°C (70°F) – not exactly the frigid, sub-zero temperatures you might expect to experience during a typical Canadian Polar Bear Plunge event. No matter, though, it was all for a good cause and that's what counts. Conditions during last year's (2018) plunge on Sullivan's Island were much colder when participants braved 0°C (32°F) temperatures.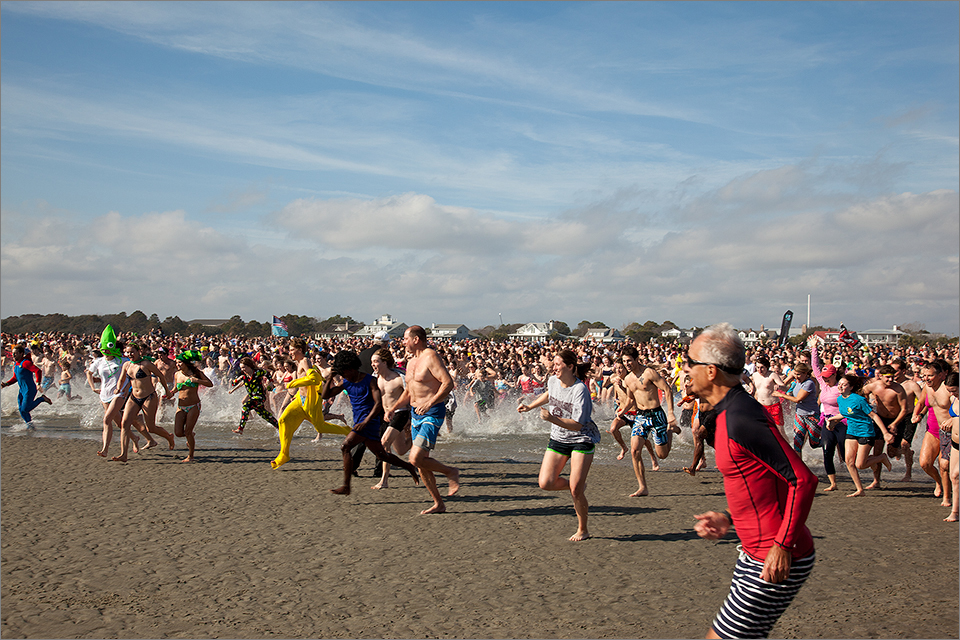 Our final ocean excursion was to Folly Beach. This place is often referred to as the Edge of America and is one of the more popular surf spots along the east coast. While here, we visited the Lighthouse Inlet Heritage Preserve.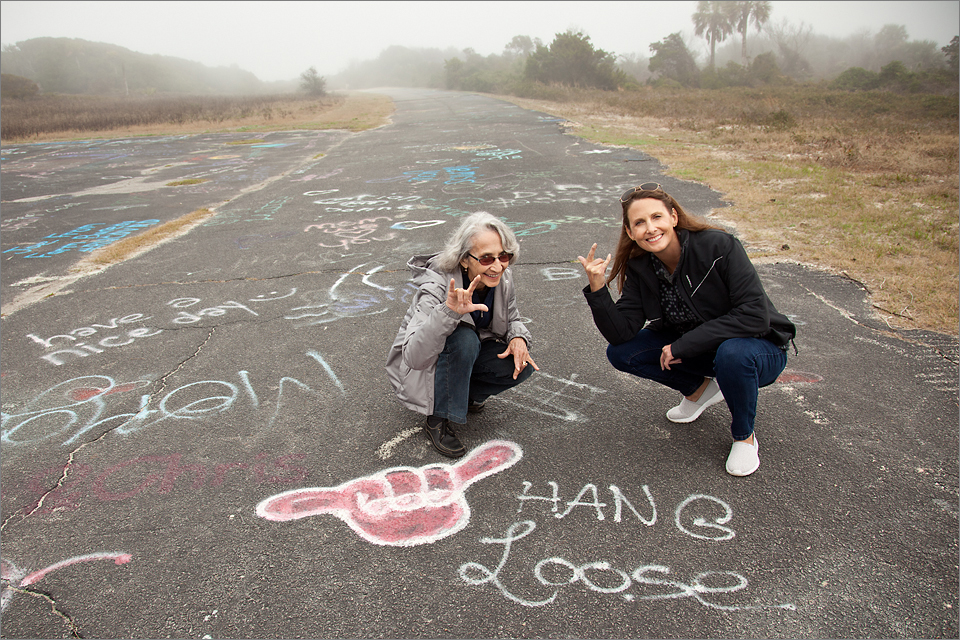 The pavement along the half-mile walk to the beach in the Preserve is covered in colorful graffiti, as are some of the concrete remnants of various U.S. Coast Guard structures that once stood here. It's a popular spot for beachcombing and photography. During our visit, Corrie Anne found part of a fossilized shark tooth, possibly from a megalodon.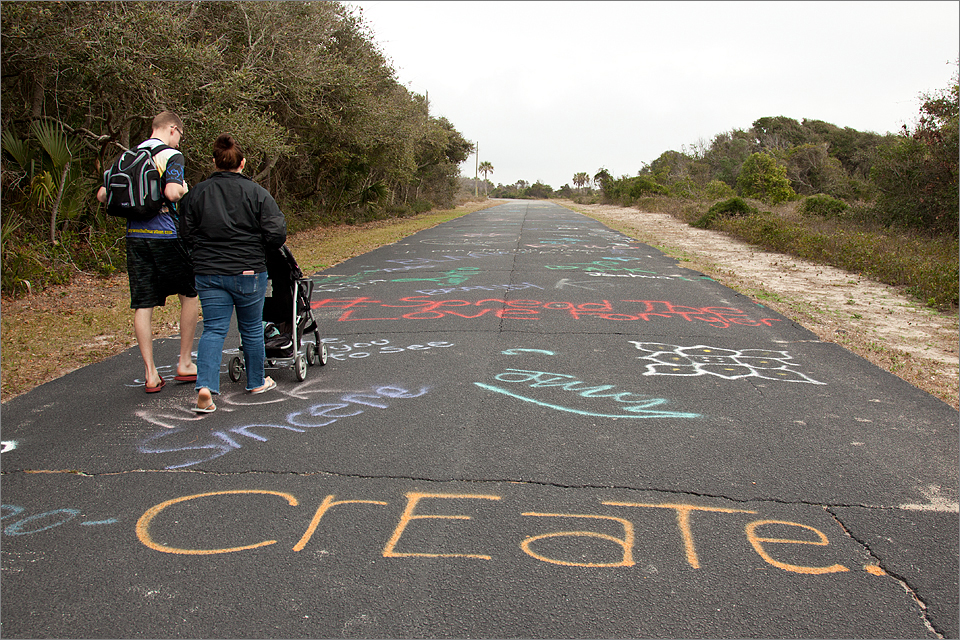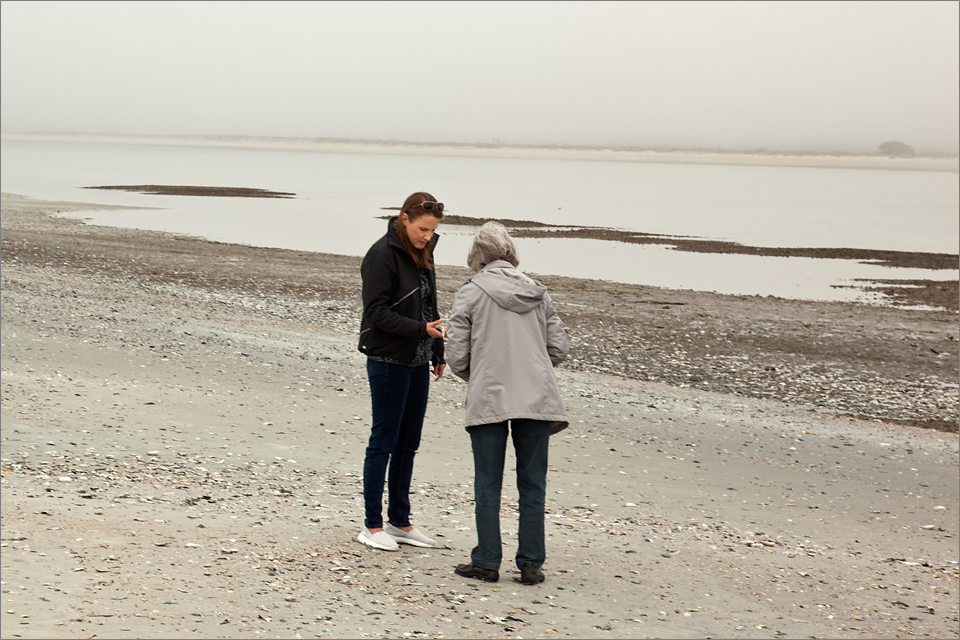 I was hoping to get a few photos of the Morris Island Lighthouse from the beach. The lighthouse was constructed in 1876 and functioned until 1962. The morning we visited, a dense fog covered the 49-meter-tall (161-foot) lighthouse, but lifted just as the tide was beginning to come in. I was able to get a few shots, from a distance. Next time, I'll bring a longer lens.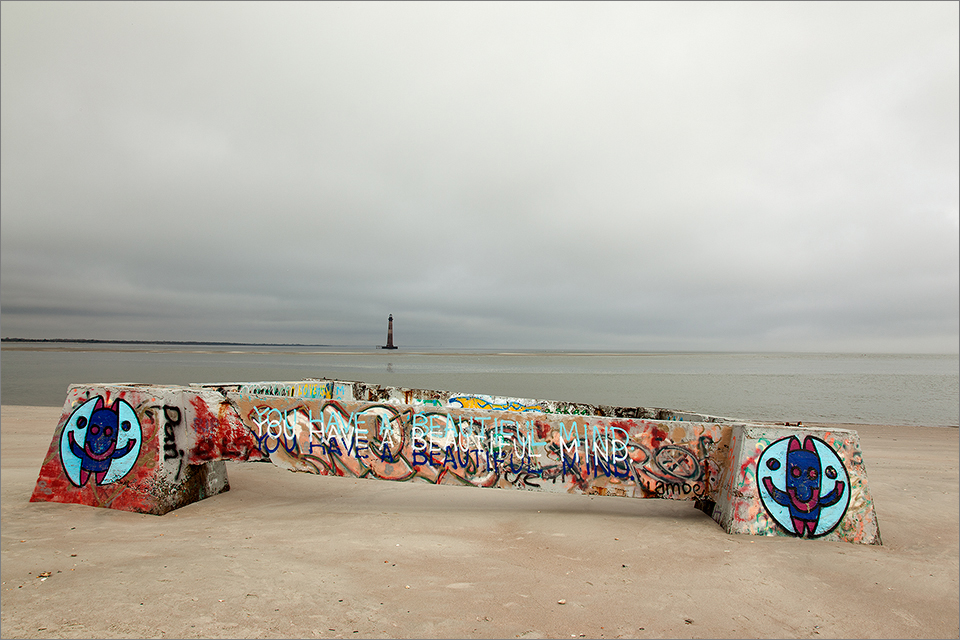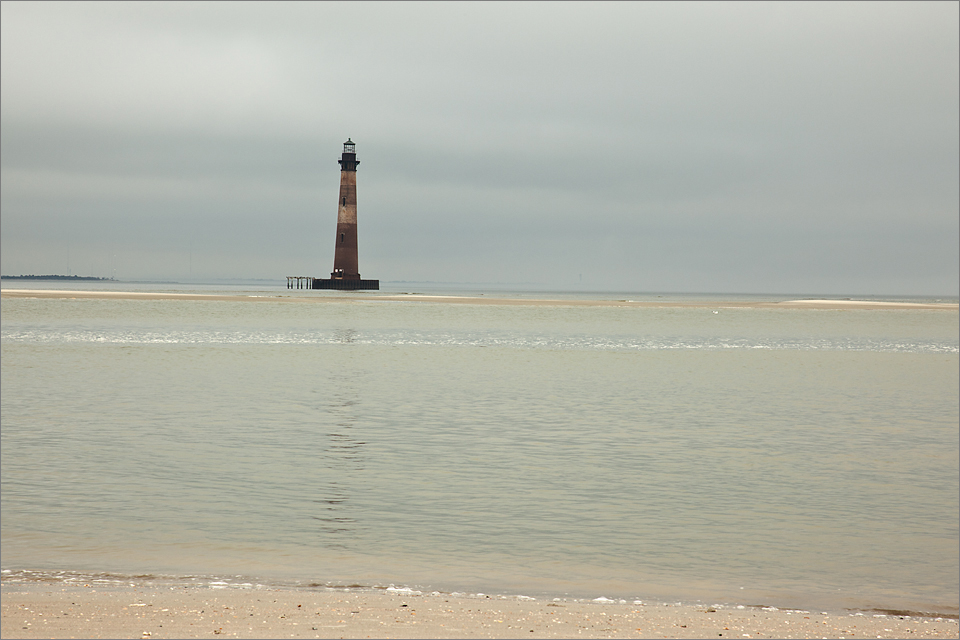 Architecture, Photography, and Sightseeing
Charleston has been described as "A veritable architectural museum without walls." The city is home to hundreds of historic buildings, designed in an array of period styles. You will see everything from Colonial, Georgian, Regency, Federal, Greek Revival, Gothic Revival, Queen Anne, and others. These buildings are a photographer's delight.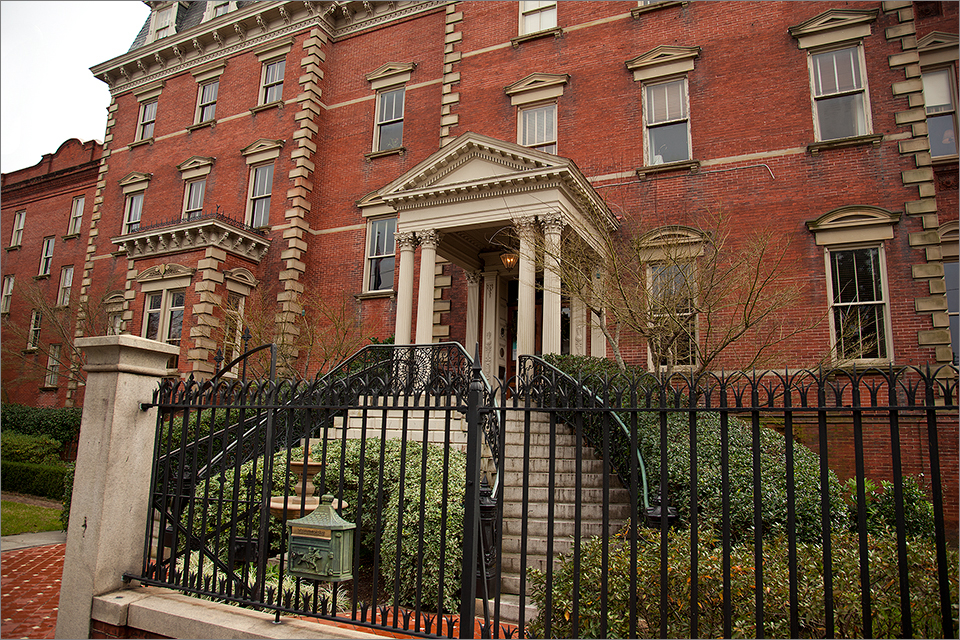 The photo above is of Wentworth Mansion. It's four stories tall and was built in the Second Empire style. When completed in 1886, the 24,000 sq. ft. mansion was home to one family. Today, it's a luxurious 5-Star Hotel.
I think it's remarkable so many of Charleston's historical buildings have withstood the test of time, especially when you consider the number of hurricanes the city has endured during its 348-year history. The city is situated in what's known as the Lowcountry region of South Carolina. Downtown Charleston sits a mere 2.5 meters (8 feet) above sea level. Storm surge can pose a real threat here during a hurricane, and flash flooding can be a concern during periods of heavy rain.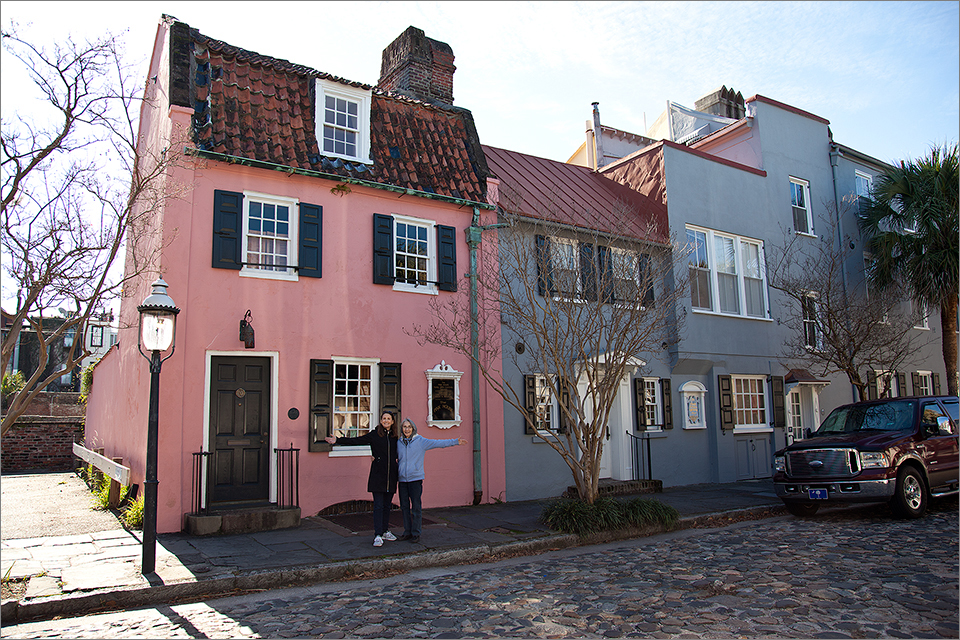 While touring around Charleston, we came across a number of historic buildings. They included the Pink House, one of the oldest standing structures in the city. It's located in the French Quarter, on Chambers Street, and was constructed between 1694 and 1712. The street in front is one of eight remaining in Charleston made of cobblestone.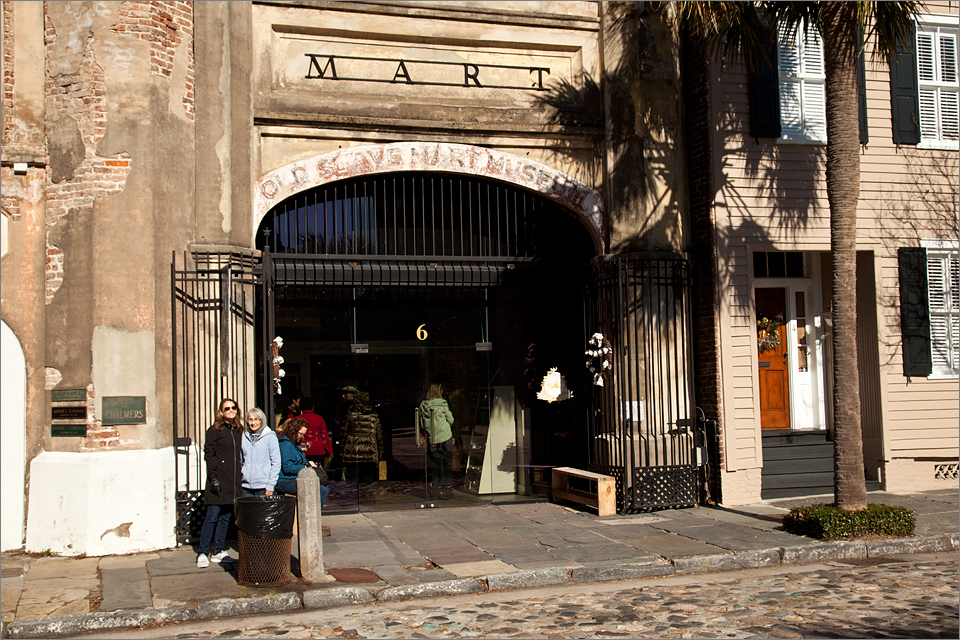 A few doors down from the Pink House, on the opposite side of the street, is the Old Slave Mart. Constructed in 1859, the building was once used as a slave auction gallery. It's reported that when Union forces occupied Charleston in February 1865, the slaves still imprisoned at the Mart were freed. It's a unique place because it's the only known building in South Carolina where enslaved people were sold that's still standing. Today, it serves as a museum that recounts the history of the city's slave trade.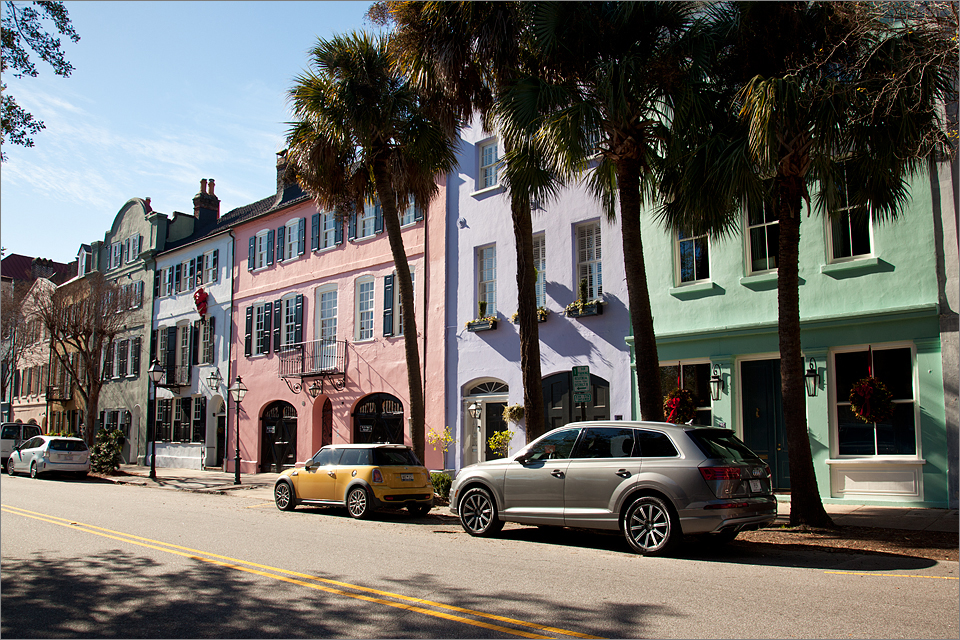 Another popular location among sightseers and photographers is Rainbow Row, a cluster of thirteen colorful Georgian row houses dating to the 1700s. Not only does the pastel color scheme of these houses look pleasing to the eye, but the light colors also help keep them cool for those who reside inside.
Horse & Carriage
A good way to see some of the historic sites in Charleston is by going on a horse-drawn carriage ride, and we did this one afternoon. During the one-hour tour, our driver and guide, Eric, provided lots of interesting information on many of the old churches, homes, and mansions along the route.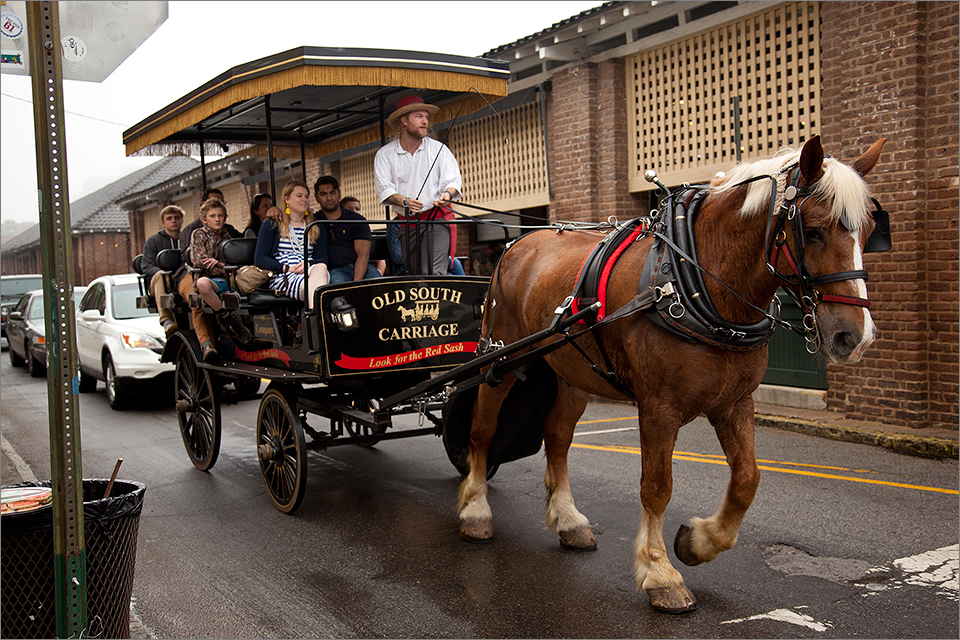 Waterfront Park
Charleston's Waterfront Park is a great place to go for a scenic walk along the harbor, to relax on a park bench beneath a palmetto tree, and to take pictures. We were able to visit twice, once when we went for lunch at Fleet Landing Restaurant, and another time when I was able to photograph the famous Pineapple Fountain at dusk.
The photo below shows a tour boat passing Waterfront Park, with a partially submerged sailboat resting in the shallows near shore. Apparently, the boat broke free of its mooring, drifted here and got stuck when the tide went out. Across the harbor, you can see the World War II aircraft carrier, the USS Yorktown. The Navy ship was decommissioned in 1970 and is on permanent display at the Naval & Maritime Museum at Patriots Point in Mount Pleasant.
A Bridge to Cross
The Arthur Ravenel Jr. Bridge crosses the Cooper River, connecting Charleston to Mount Pleasant. This eight-lane bridge has a main span of 471 meters (1,546 feet) and is the third longest cable-stayed suspension bridge in the Western Hemisphere. The bridge is an impressive structure to photograph, day or night.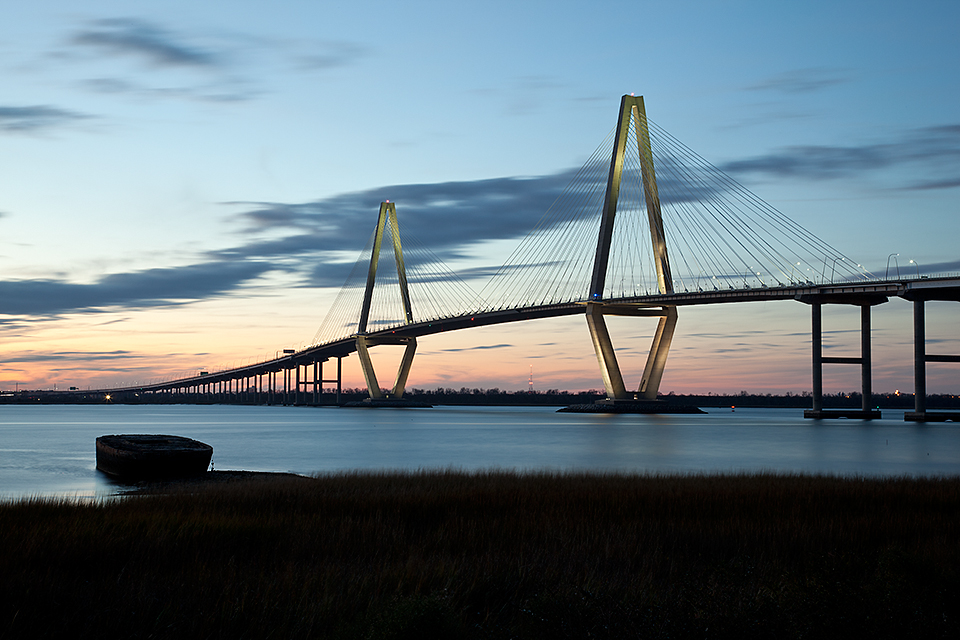 Pictured in the water, just above the marsh grass in the photos above and below, is the Old Sunken Hull. These are the remains of the River Steamer, Col. J. E. Sawyer, a 700-ton, concrete and steel passenger vessel. It was commissioned in 1919 and had a carrying capacity of 500. The steamer sunk in 1926 near Adger's Warf, about 5 kilometers (3 miles) from here. It was raised in 1929 and towed to this site, where its hull sits to this day.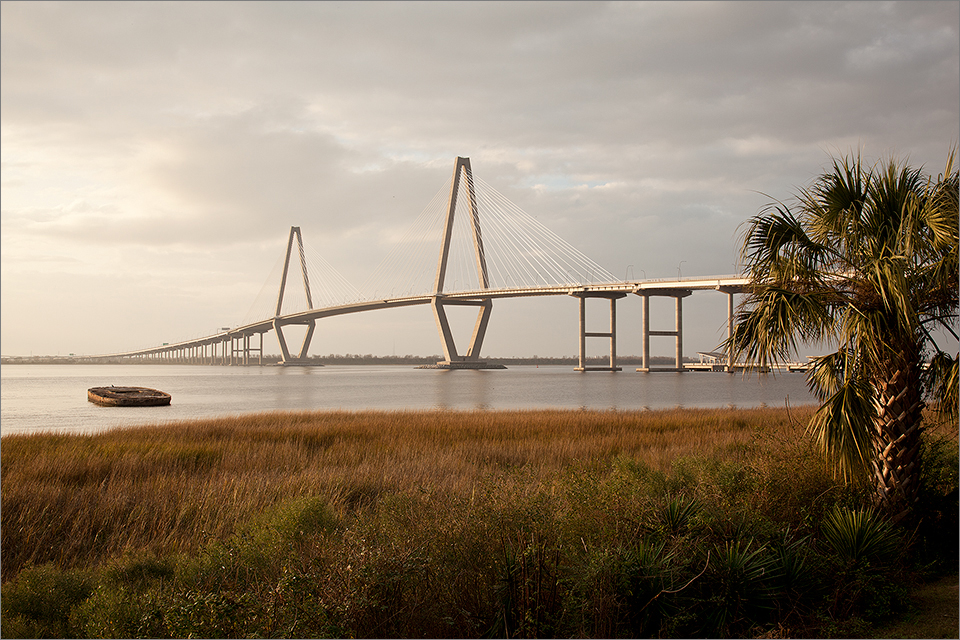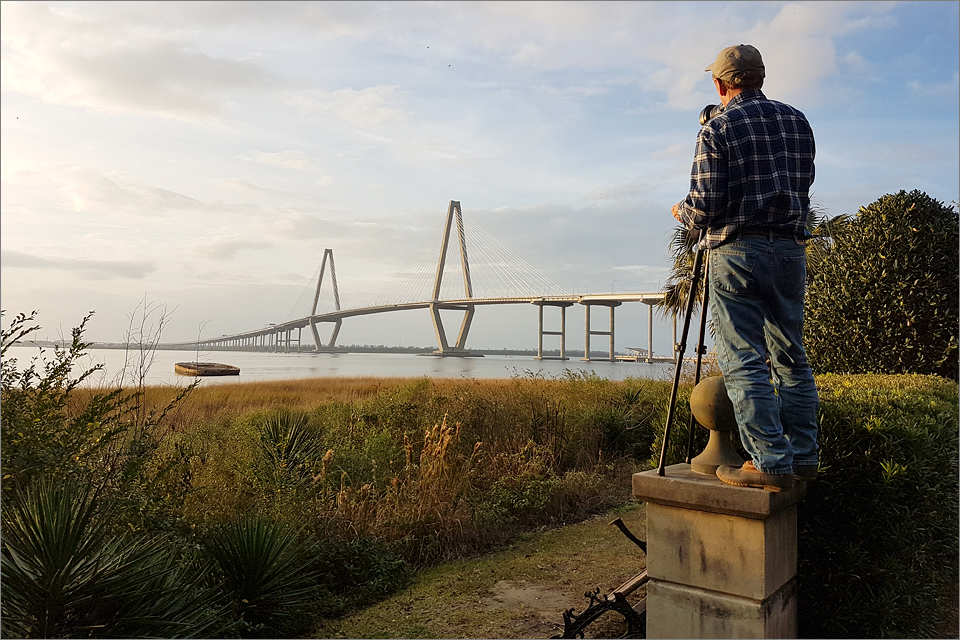 Festival of Lights
One evening, we headed over to James Island County Park to take in the Holiday Festival of Lights. It's where the photo shown at the top of this page was taken. The light display depicts the South Carolina state flag, showing a palmetto tree and crescent.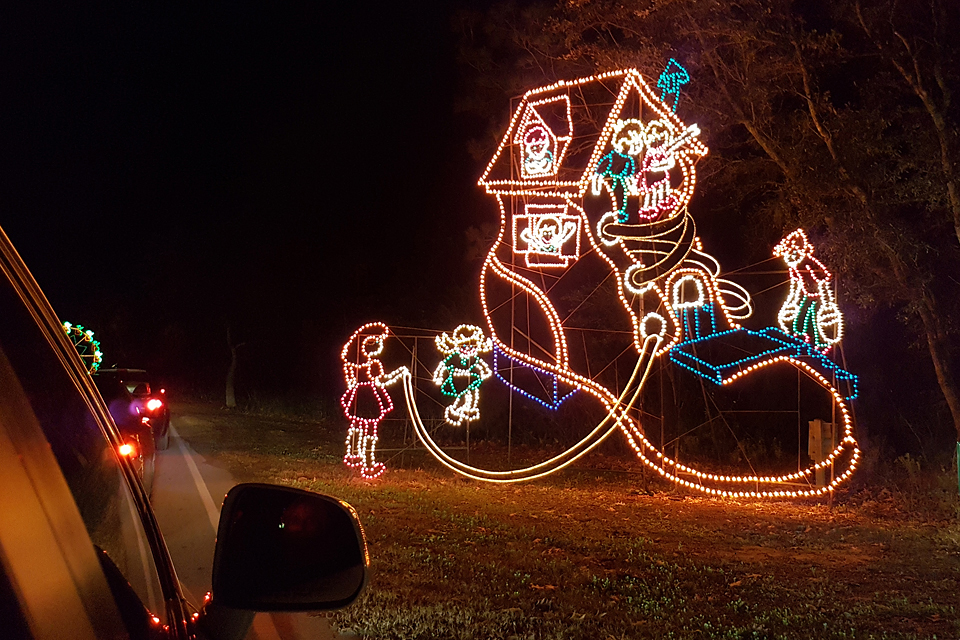 There were lots of things to see and enjoy at the festival, including an art display by local students, a gift shop, concession stands, train ride, and an old-fashioned carousel. The main attraction is a three-mile driving tour through what is the best roadside light display I have ever seen. More than 2 million lights are used to illuminate the elaborate displays, many of which are animated. We drove through twice, in order to see everything on both sides of the road. The festival had been open each evening since November 9th, and even though it was the final weekend of the light show, it was bumper-to-bumper traffic through the park.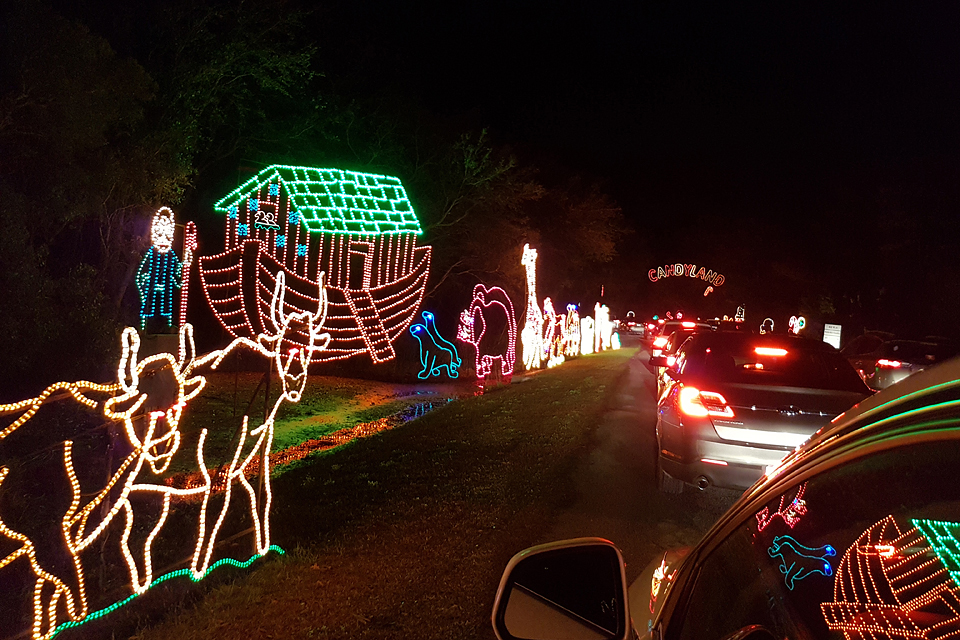 Final Thoughts
Carol and I had a great time visiting Corrie Anne and Robbie and we are extremely grateful for everything they did to make our trip perfect in every way.
All of the people we met during our stay, whether it was on the street, in restaurants, stores, or at the beach, were friendly and hospitable. It's easy to see why this part of South Carolina is regarded as one of the friendliest places to visit in the U.S.
We barely skimmed the surface of things to see and do. There are far too many places to visit – more than we could have ever seen in one trip. Along with other beaches and seaside attractions, there are lots of historical sites related to the Revolutionary and Civil War. These, alone, could keep you occupied for a long time.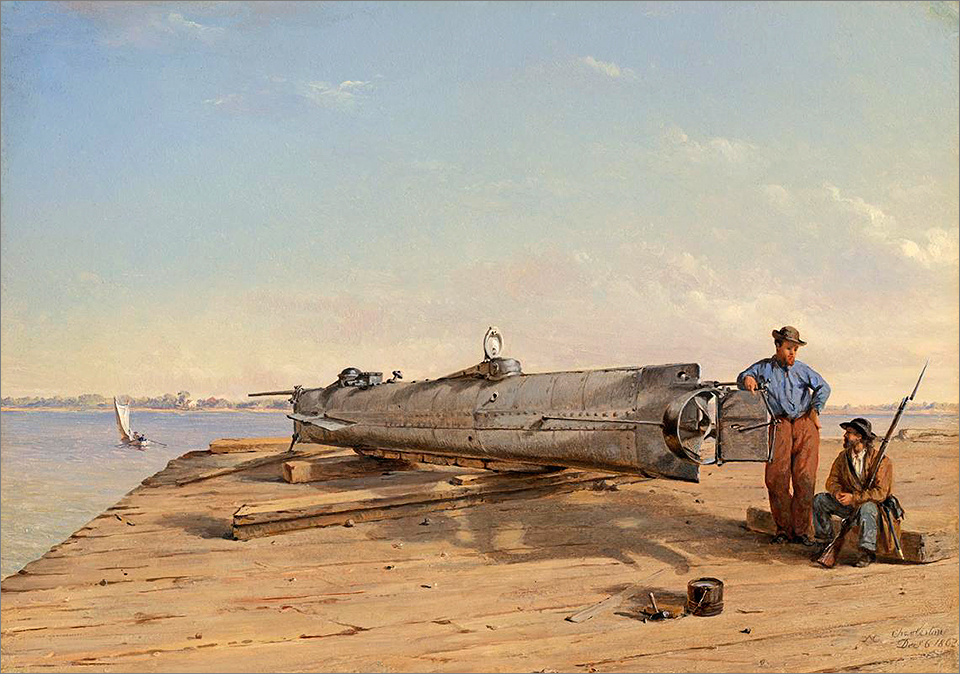 It would be interesting to visit Fort Sumter, where the first shots of the Civil War were fired. There's also the H.L. Hunley, a Confederate submarine that sunk off Charleston's coast in 1864, then was located in 1995 and raised in 2000. It's on display nearby, in North Charleston. The Naval & Maritime Museum in Mount Pleasant is another future must-see. There are historic plantations, gardens, churches, and museums to tour, an aquarium to visit, more places to go fishing, and the list goes on. We'll have to save these for another time.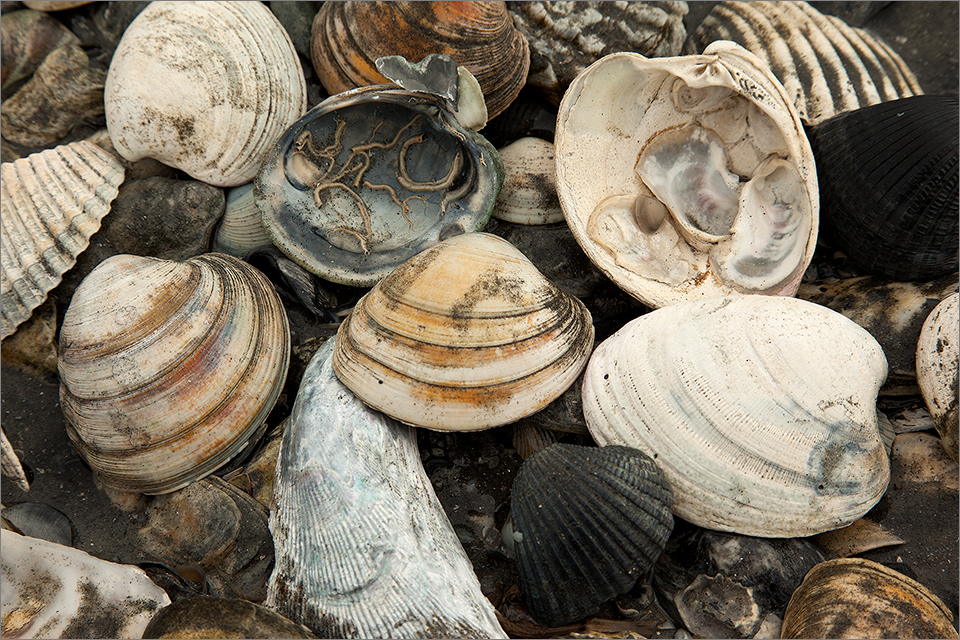 Article References & Credits
Photos
Image #21 – courtesy of Corrie Anne Kosco
Image #25 – Wikimedia Commons, 1864 painting of H.L. Hunley submarine by Conrad Wise Chapman