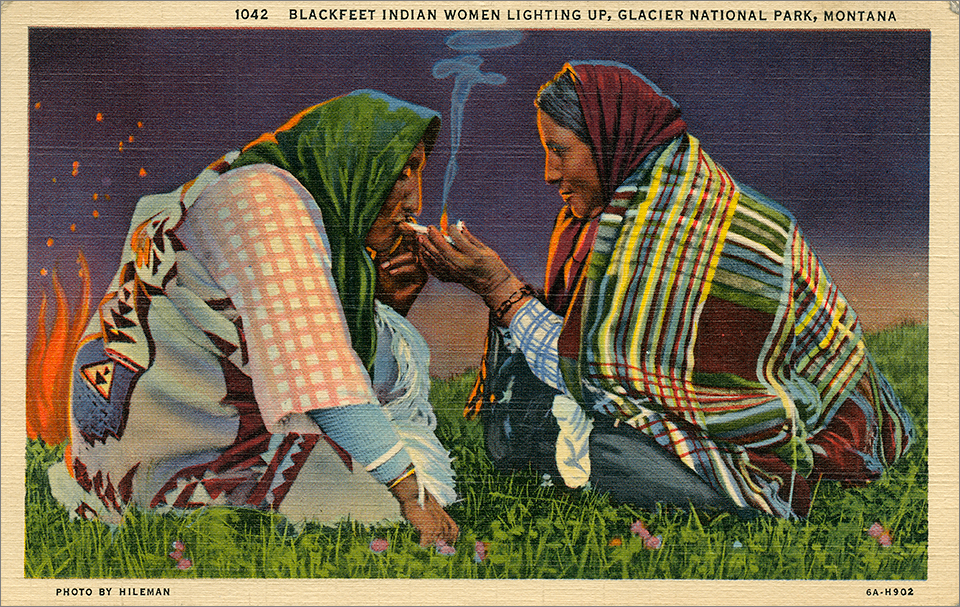 The colorful image shown above is of a 1941 postcard from Glacier National Park, Montana. The photograph was taken by a renowned American photographer, Tomar Jacob Hileman (1882-1945). I came across this linen postcard several years ago and thought it was quite interesting. It's not a rare postcard by any means, but what drew my attention to it was the vivid colors of the garments worn by the two Blackfeet women. After more than 75 years, the colors in this image are as vibrant as the day the postcard was sold to a tourist visiting the park.
Postcards of Canada's First Nations peoples were extremely popular in the late nineteenth and early twentieth centuries. It was a time of mass immigration, settlement, and displacement. The wild, western frontier was quickly being tamed and disappearing. Images of a vanishing people, who once thrived in this environment, were highly sought after.
Posing for Pictures
Some postcard photographs were made outdoors in natural settings, while others were done indoors. When taking portraits within the confines of their studios, photographers frequently provided costumes and props, including guns, tomahawks, ceremonial pipes, animal pelts, and blankets, and arranged their subjects in staged poses. Portrait sitters were probably paid a nominal fee for their time.
These postcards were marketed to tourists, and thousands of them were sent to cities in the east or overseas to Europe, where there was great fascination and curiosity in western Canada's Aboriginal peoples. Photographic images of the "noble savage" were in great demand, and it didn't matter whether these groups of people were depicted accurately or not. In many cases, these images resulted in cultural stereotyping, creating false impressions of what were proud, indigenous people.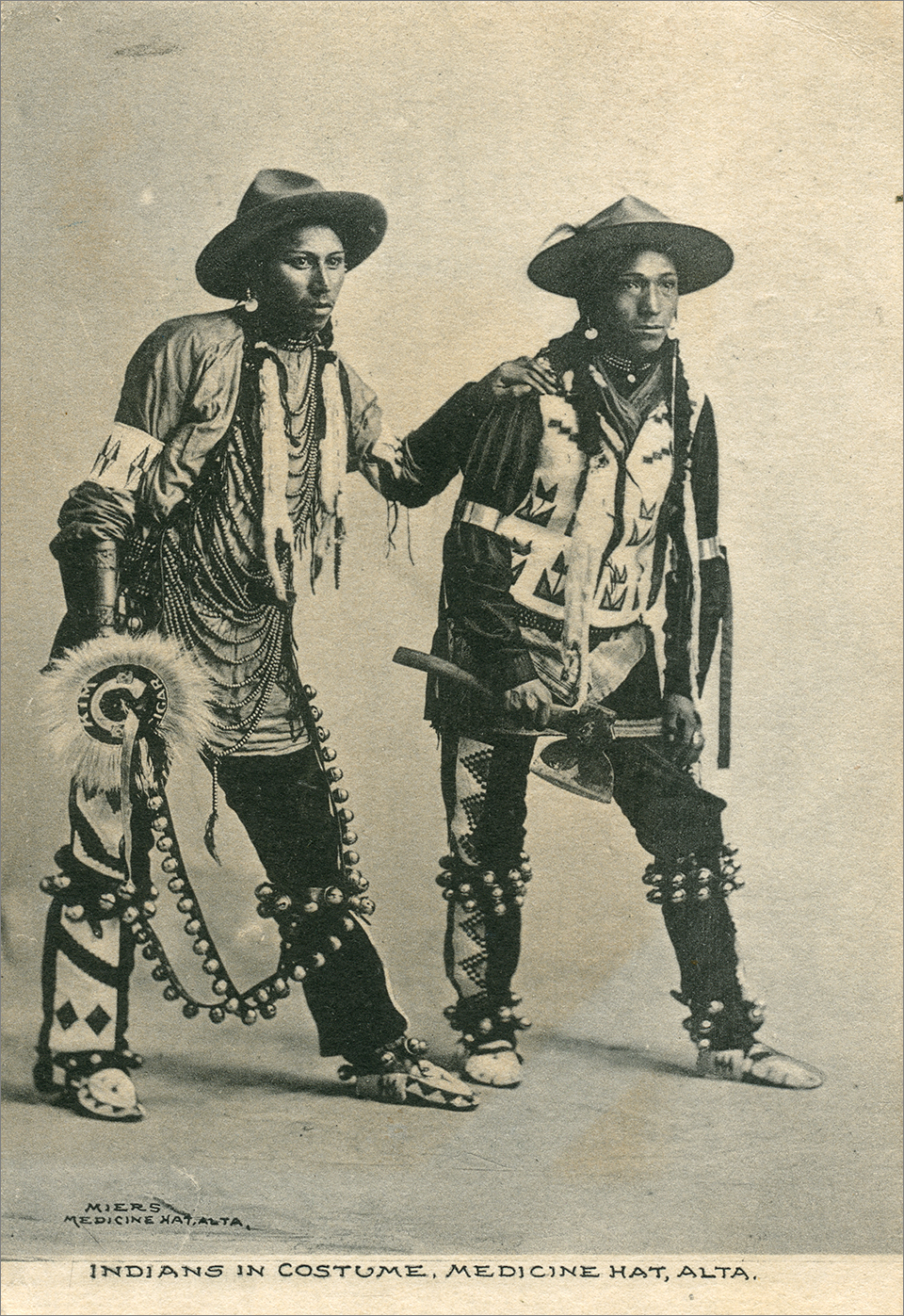 Hidden Elements
The postcard image above was taken by James E. Miers, a photographer operating in Medicine Hat, Alberta in the early 1900s. The card was postally used and mailed from Medicine Hat to London, England in 1907. It shows two young First Nations men, possibly of Blackfoot or Cree heritage, dressed in costumes consisting largely of "western" attire.
Almost hidden from view is a cigar advertisement displayed on the front of the small, fringed shield held by the man on the left. I wonder what that was all about?
It's obvious this is a staged scene, and props were most definitely used, but it's still a very interesting photograph to look at. It's a rare postcard and I have yet to see another one like it. It's also in excellent condition, considering it's been around for 110 years. Whenever I view an old postcard like this, I can't help but wonder whose hands it has passed through over time.
Article Notes & Comments: Linen postcards, such as the one by T.J. Hileman at the top of this article, were made from the early 1930s to the late 1950s. The papers used to produce these postcards contained a high rag (cotton fiber) content. The surface was patterned with a crosshatch texture resembling linen fabric. This provided more surface area on the cards which allowed the heatset inks to dry faster, thereby allowing the dyes to remain closer to the paper's surface. The process started with a retouched black & white photo, then printed, using offset lithography, on linen card stock. The end result was a postcard displaying bold, saturated eye-catching colors, ready for display in a souvenir shop. Millions of them were sold.
Article References & Credits
University of Calgary – Digital Newspaper Archives (Medicine Hat News)
The University of Alberta – Peel's Prairie Provinces (Henderson's Directories)
Vintage First Nations Postcards
VB Collection