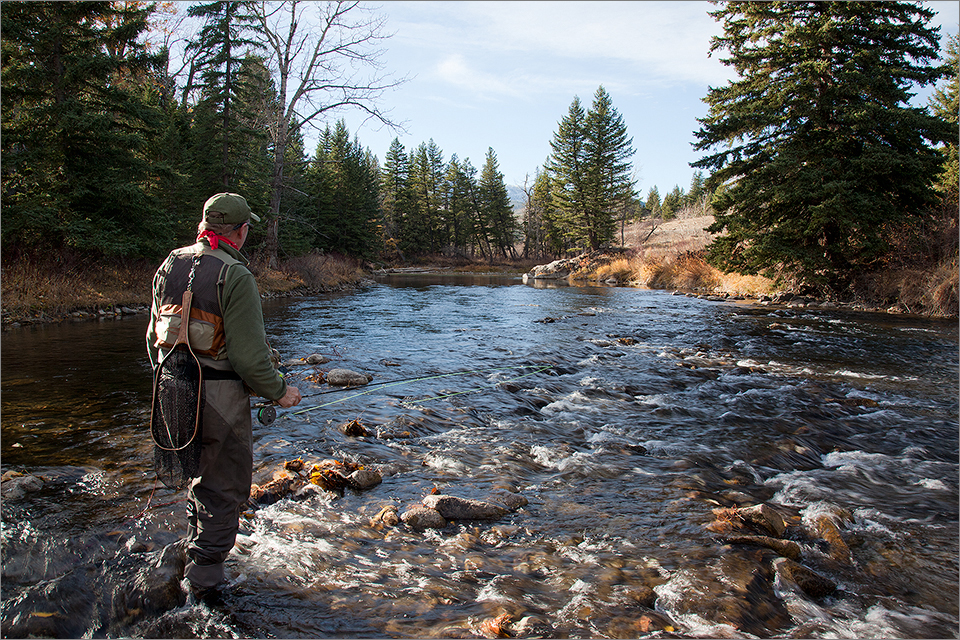 Today is the final day of the 2017 fishing season on the majority of rivers and streams in southwest Alberta. It seems like only yesterday that I was looking forward to another great season on these waters. Beginning tomorrow, November 1, there's only going to be a couple of rivers around here where anglers will be permitted to fish. These include portions of the Crowsnest and Oldman rivers. At least there are some places where folks will be able to stream-fish over the coming winter months, if they so desire.

Knowing that closing day was quickly approaching, I made the effort to spend some time on the Crowsnest River over the past several weeks. The Crow is one of my favourite places to fish, particularly late in the season. It's close to home and I don't have to travel very far, should I decide to go fishing on the spur of the moment.
At this time of year, you don't have to be on the river at the crack of dawn or stick around until dusk, in order to catch fish. Unlike the summer months, fishing in autumn is most productive during the warmest part of the day. If I'm on the water by noon, that's early enough, and most times I'm back home well before suppertime.
Spending 4-5 hours on the water provides plenty of opportunities to catch a trout or two. The summer crowds are gone and there's a good chance you will have most of the river to yourself. There are other anglers who like the fall fishing as much as I do, but finding a spot to be by myself is usually not too difficult.
In autumn, it's almost as if the trout realize another long, cold winter is close at hand, and that they ought to take advantage of whatever food is available. Although trout will rise to the surface to take small mayflies and midges during the late-season, most of their diet consists of nymphs, larvae, and other aquatic insects living along the stream bottom.
I never turn down a chance to cast dry flies to rising trout, but I'll do whatever it takes to catch them, even if it means going down deep with a nymph or streamer. The fish don't seem to mind what fly pattern I use to catch them, and in the end, they are all released to live another day and perhaps provide some enjoyment for the next angler who comes along.