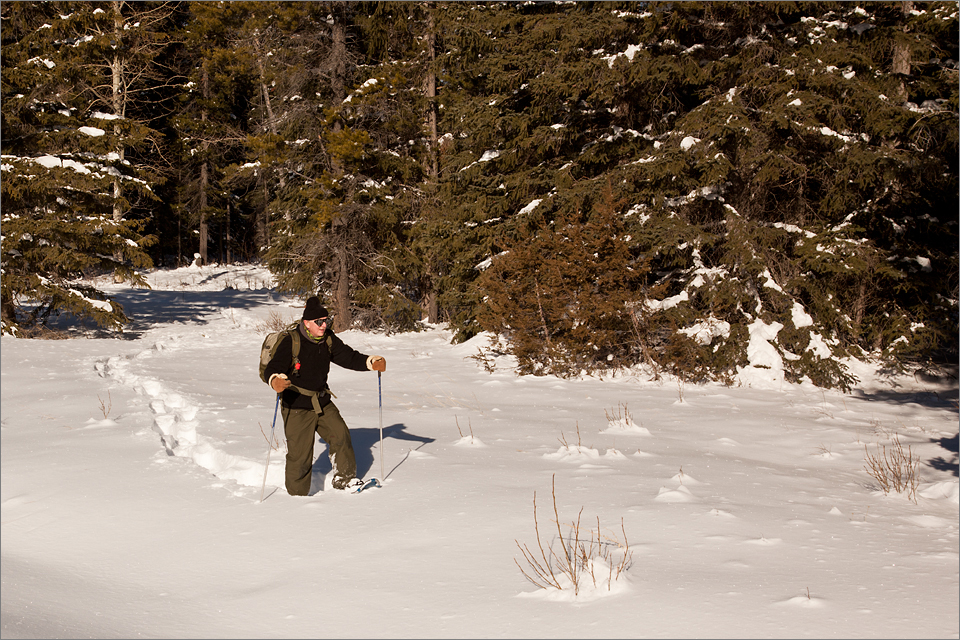 It's been bitterly cold in Crowsnest Pass over the past couple of weeks. In addition to this, we were whacked with a huge amount of snow during this time. If I wasn't clearing snow outside, I was inside trying to stay warm. Temperatures have been on the rise over the past several days and by yesterday morning it had warmed up enough for me to head outdoors for a long-awaited walk in the woods.

I pulled my snowshoes from the rafters in the garage and headed to the Allison-Chinook Cross Country Ski Area west of Coleman. The temperature was -10°C when I reached the parking lot, and by noon it had climbed to a pleasant -4°C. It was sunny and bright, and there was barely any wind. Conditions were perfect for snowshoeing.
I started my trek by following the snow-covered banks of Allison Creek. There was a bit of open water on the creek and it was very picturesque. I stopped a couple of times to take photographs before continuing on.
I eventually made my way back to the groomed trail and continued to head up the valley until it was time to turn back. It's easy to work up an appetite whenever you are in the outdoors, but this is especially true when trudging through deep snow. Lunch is always a welcome break.
Here are a few snow, ice, and water photos I made while walking along the creek.