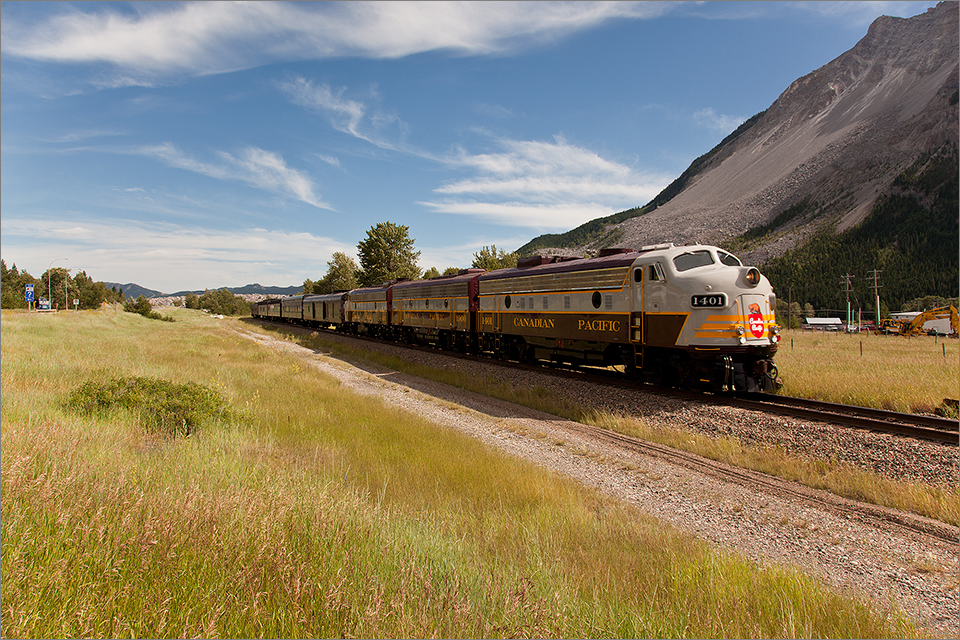 On Tuesday afternoon, I was fortunate enough to be in the right place at the right time. I also happened to have my camera with me and was able to get a few photos of the event. I was driving along Highway 3 toward the town of Frank, just as a Royal Canadian Pacific passenger train was travelling through the Frank Slide.
You don't see trains like this every day, so I pulled off the highway at the railway crossing in town and took some pictures. I had less than a minute to scramble into position before the train sped by. There was no time to set up a tripod, and the shots were all hand-held. Turtle Mountain and Frank Slide can be seen in the background in the photo above. Trailing behind locomotive CP1401, which was built in 1958, were about a dozen vintage passenger cars. Some of the cars appeared to be empty, but others were carrying people. As the last car zipped by, some of its passengers could be seen standing on the veranda at the back, waving to all the folks who had pulled over to watch. It would have been nice to be one of these people riding the rails through Crowsnest Pass.
Canadian Pacific will be running a special Canada 150 Train from Port Moody, British Columbia to Ottawa, Ontario between July 28 – August 20. In Alberta, it will make stops in Calgary (July 30) and Edmonton (July 31). The train will be led by the same locomotive, CP1401, which came through Crowsnest Pass on Tuesday, and will include the Royal Canadian Pacific heritage cars (1917-1931). For more information on the Canada 150 Train schedule and events, click here.
Article References & Credits
Canadian Pacific Railway