There's a famous saying in Crowsnest Pass in regards to the weather. It's quite simple and it goes like this. "If you don't like the weather, just wait a few minutes."
I know there are lots of places that use the same expression, but with the rate and frequency in which things can change in the Pass, it describes our weather to a "Tee."
In last week's post, I spoke of the winter-like conditions we have been experiencing this spring and how it's been causing an increase in cases of cabin fever. Since then, we've been on a wild roller coaster ride. Thursday's snow event was followed by three days of warm, sunny, spring-like weather. By Sunday evening, we were under yet another snowfall advisory. By noon on Monday, 10 centimeters of fresh snow covered the ground. Tuesday's weather was a complete turnaround. The sun was shining once again and the snow was melting. There's never a dull moment this time of year. The good news is the weather forecast is calling for warm temperatures to stick around for at least the next 7-10 days. After that, who knows?
Crowsnest River Regulation Changes
New fishing regulations came into effect on April 1st, allowing anglers to fish the full length of the Crowsnest River, year-round. Previously, there were seasonal closures on certain stretches of the river. Now, you can fish anywhere on the Crow, any time of the year. Fish retention of any kind is not permitted and the entire river is strictly catch-and-release fishing only. In addition, there is a total bait ban in place. The regulations have been simplified, making them easier to understand. In the past, locations and landmarks along the river with similar names made it difficult to decipher and follow the regulations. The sizes of fish you were allowed to keep, dates you could keep fish, and areas where you could keep fish, were confusing.
There are a lot more opportunities and places available for anglers wanting to fish the river now, compared to before. This will help spread everyone out and the water won't be as congested as it was in the past, particularly this time of year. I think these changes are great and will ensure the fishery remains healthy and productive for future generations to enjoy.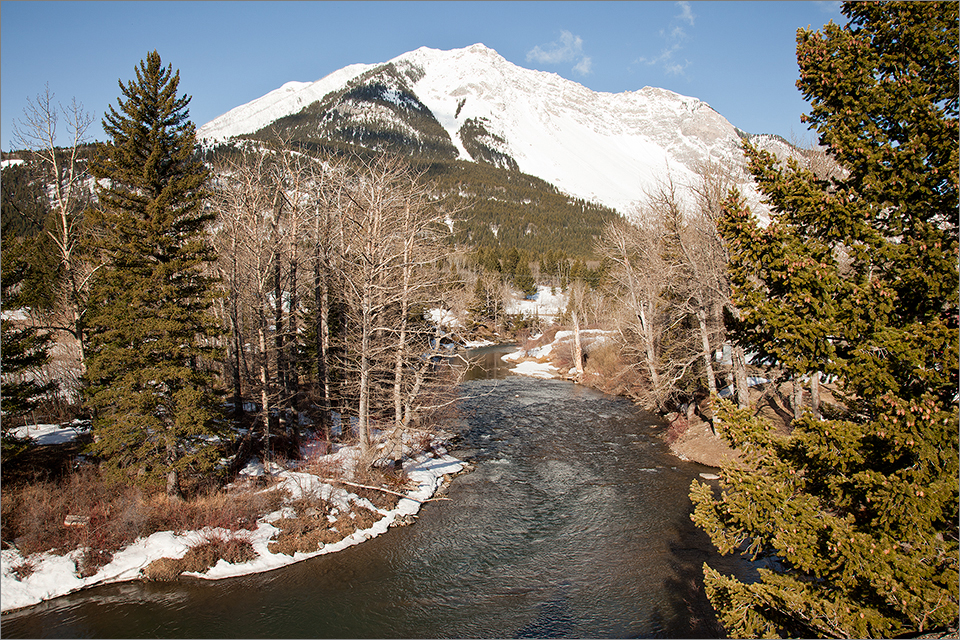 Medicine for the Mind and Spirit
I was able to get out fishing on the Crowsnest River for a few hours last weekend. It was my first time on the river since October. I had a nice outing and was able to shoot a few photos at the same time. It was just what the doctor prescribed. Fishing and photography are the perfect cures for cabin fever.
I decided to try a section of the Crow that in past years was not open to fishing until mid-June. It felt different wading and casting into water I normally don't get to see until the summer months. On my way down to the river, I could see day-old footprints in the crusty snow. Someone had beat me to it! Oh well – that was okay. Just being on the water after a 5-1/2 month hiatus was good enough medicine for me.
Now that I have one treatment under my belt, I feel like I'm on the road to recovery. One or two more visits to the river and I should be back to normal. Of course, follow-up appointments will be required at regular intervals throughout the coming months. Doctor's orders!