Waiting for the ice to melt on a frozen lake can be like watching paint dry. You have to be patient because sometimes it can take a while. Ice-out is a few weeks late this year but it appears to be starting on several of our local lakes.
I've been checking some of our trout lakes and ponds over the past couple weeks to see whether there was any sign of open water. Until a few days ago, all of the ones around Crowsnest Pass remained locked in ice.
It doesn't take long for the ice to come off these lakes, once it starts to melt along shore. A bit of heat from the sun, combined with wind, can thaw an ice-bound lake in no time. I've seen lakes covered in ice, one day, only to be completely ice-free, three days later. This year, though, it's taking longer than usual for everything to come together, in order for this to happen.
A few days ago, I had to make an early morning trip to Pincher Creek. I always enjoy the drive this time of day because of the wildlife you might encounter along the way. I had to watch out for mule and white-tailed deer while driving, as there were quite a few of them grazing on new grass sprouting alongside the highway. It was a long winter and some of the deer are quite scrawny-looking. They're hungry and the roadside grass is easy pickings for them. Soon, the does will start giving birth to their fawns. I also noticed a pair of sandhill cranes foraging for food in a farmer's field just outside of Pincher Creek.
On my way back to the Pass, I made a detour to check ice conditions on Beauvais Lake. I was here last weekend and found it just as it was then, covered in ice from shore-to-shore.
I had time to take a few photos and hiked a ridge overlooking Scott's Point. There were signs of spring everywhere. Crocuses were blooming on the rocky terrain, a couple of ruffed grouse were sunning themselves at the edge of the trail, and in the distance, I could hear sandhill cranes calling from the marshy wetlands area at the far end of the lake.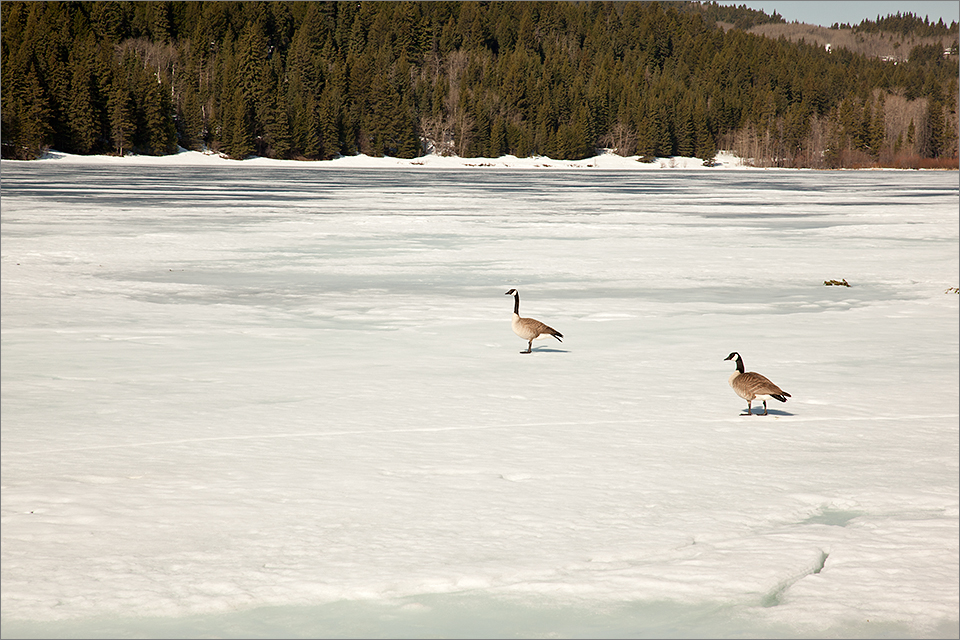 Down by the lake, there were numerous pairs of noisy Canada geese. They have been back for a while now and are anxiously waiting for the ice to leave so they can begin squabbling over choice nesting sites. One pair has already claimed prime real estate atop a nearby beaver lodge. Columbian ground squirrels, having recently emerged from their underground burrows, were watching my every move. On my return from Beauvais Lake, there were more deer to be seen, along with several ospreys and a small flock, or rafter, of wild turkeys. Around here, there are a lot of interesting things to see while waiting for ice-out, or for paint to dry!