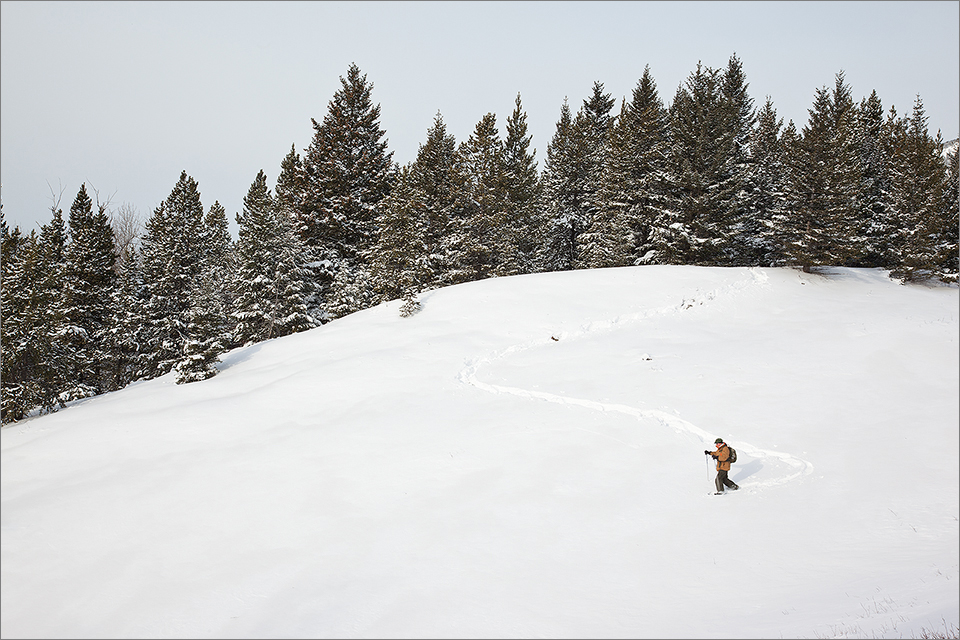 There's plenty of snow available in and around Crowsnest Pass this winter and conditions are ideal for a variety of outdoor activities, including snowshoeing. The great thing about living in the Pass is its close proximity to the backcountry. You don't have to travel very far to enjoy some fun in the snow. All you have to do is keep an eye on the weather and then head outdoors when the opportunity presents itself. Yesterday, I had a chance to do just that.
Right after breakfast I grabbed my snowshoes, hiking poles, boots, gloves, and camera gear, and headed over to west Bellevue. I planned to hike the portion of the Crowsnest Community Trails route between here and the Frank Slide Interpretive Centre. This part of the trail basically follows the northern edge of the Frank Slide, past picturesque Connelly Lake, and within view of Turtle Mountain. It's only a small portion of the 23 km, non-motorized trail system linking each of the communities in Crowsnest Pass, but I think it's the most scenic section, especially during winter.
The snow depth varied, depending on location. On open, windswept ridges, there was less than a foot of snow, while in sheltered gullies and in wooded areas it was nearly waist-deep. In some places, the snow was hard-packed and easy to walk across. In other areas, it was soft and deep. Breaking trail in this kind of snow is hard work, especially if you are by yourself.
The temperature was hovering around -20°C when I started out in the morning, but by the time I reached the Interpretive Centre at 1:30 pm, it had climbed to a balmy -9°C. It had been a spectacular day on the trail. This was my first snowshoe trip of 2017 and I'm looking forward to getting out again soon.