In April, I posted an article here on the early history of fishing at Waterton Lakes National Park. As a result, I received a number of emails and messages from people whose families have ties to Waterton, dating to the days of John George "Kootenai" Brown. Their stories were very interesting and I thank them for sharing these with me.
I was also contacted by Edwin Knox of Parks Canada. Edwin is with Cultural Resource Management at Waterton Lakes National Park. He has been involved in an oral history project, recording stories of Waterton, as told by people who have lived and worked in and around the park over the years.
Edwin and I had a lengthy conversation about Kootenai Brown, the park's first fishery officer, and Superintendent. Edwin has spent years researching Kootenai Brown and has even visited his birthplace of Ennistymon, County Clare, Ireland.
We also talked about the early fishing at Waterton, including W.O. Lee & Sons Tented Village, as depicted in the old postcards shown in my April blog post. Lee's postcards were used to promote his family's tent camps and the fishing opportunities available at Waterton Lakes.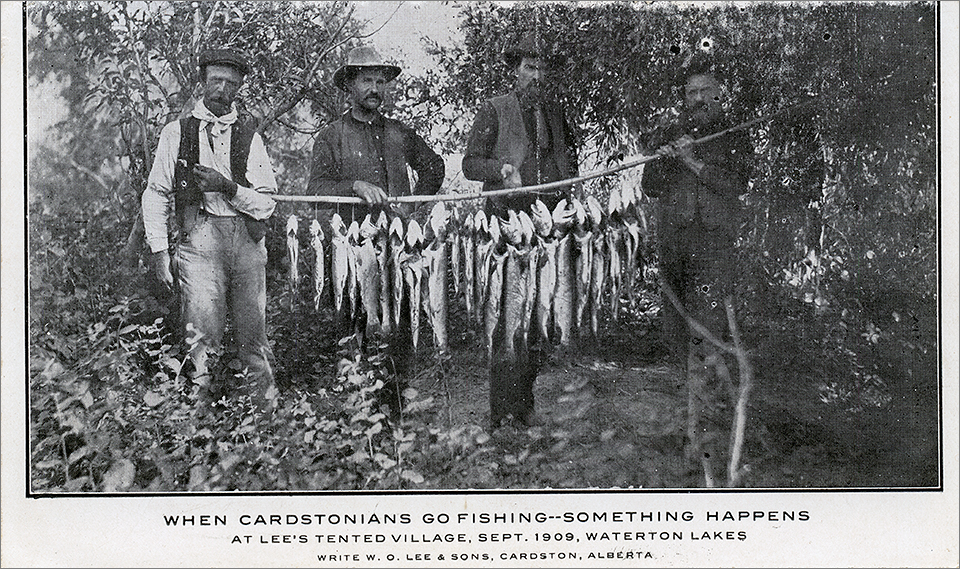 The Fish of a Lifetime
Recently, Edwin contacted me regarding a photo that was in the park's Resource Conservation Report collection. The photo, taken in 1975, showed an unidentified young man holding a large lake trout. The fish weighed in at a whopping 35 lbs. Edwin thought it would be interesting to know who the fisherman was … "for the record," and asked if I would mind posting the photo on my website. Perhaps, someone out there might know the person in this 45-year-old image?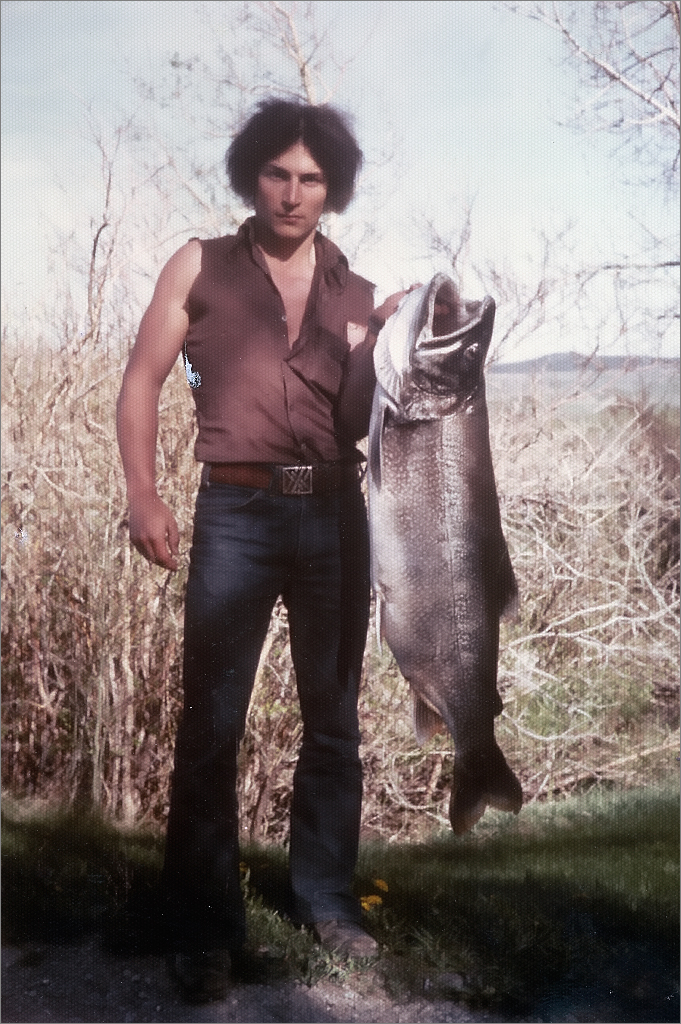 Edwin also emailed others who might be able to help identify the person shown in the photo. It wasn't long before he was contacted by the photographer, Derek Tilson, a warden working at Waterton Park in 1975.
Derek explained he went out on the opening day of the 1975 fishing season to check anglers at Wishbone dock on Middle Waterton Lake. It was a favorite location for fishermen, who would bait their hooks and cast from the dock or shore, or use a boat to get their line out. Their line and bait would sink to the bottom of the lake and the fishermen would wait on shore for signs of a hit.
Derek was out that day, checking to make sure everyone was licensed and using legal bait, and not over the catch limit. He was also looking for lines set along the shoreline, left unattended. This was an illegal practice, something unscrupulous fishermen were known to do sometimes.
When Derek arrived on the scene, he observed an angler fishing from the dock. He moored his boat and approached the young man, asking, "How's the fishing this morning?" The angler replied, "A little slow, I've only caught one. But it's a pretty good one!" When the man produced a valid fishing permit for inspection, Derek noticed some white nylon parachute cord leading down into the water. He asked the angler if he would mind raising his catch, as he would like to check it. That's when Warden Derek Tilson saw the biggest lake trout while checking anglers, during his 35-year career. Derek did not have a camera with him, so he asked the angler to stop by his residence so he could get a picture. The fisherman obliged, and because he had not committed any offense, his name was not recorded.
Mystery Solved
About a week ago, Edwin posted the photo of the unidentified angler on Facebook. Within 20 minutes, he was contacted by someone who recognized the fisherman. It turns out the young man holding the prize lake trout is Norm Hilbert of Lundbreck, Alberta. It's yet another great example of Facebook coming to the rescue, by helping someone who's trying to connect with another person.
I contacted Norm a few days ago and he was more than happy to provide details of the day, back in 1975, when he caught the big laker. Norm was nineteen years of age at the time and had been fishing Middle Waterton Lake with several other local anglers that day, including Charlie, Jim, and Geraldine Price, and Verne and Ida Dennis. Norm explained how another lake trout, weighing about 30 lbs., was caught by the group the same day. He remembers being checked by the park warden and then stopping at the warden's residence while on the way home, to have his photo taken with the fish.
Norm's fish would go on to win the Willow Valley Trophy Club's award for the largest lake trout caught that year.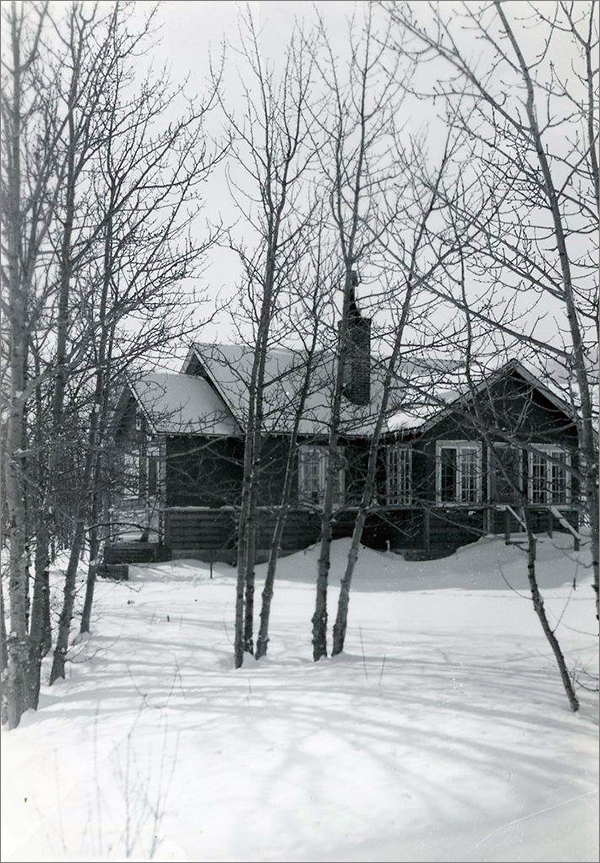 Final Thoughts
Anglers can spend years trying to catch a fish like Norm Hilbert's lake trout. Catches like this are infrequent, but when it happens it's something an angler will remember and cherish for a lifetime.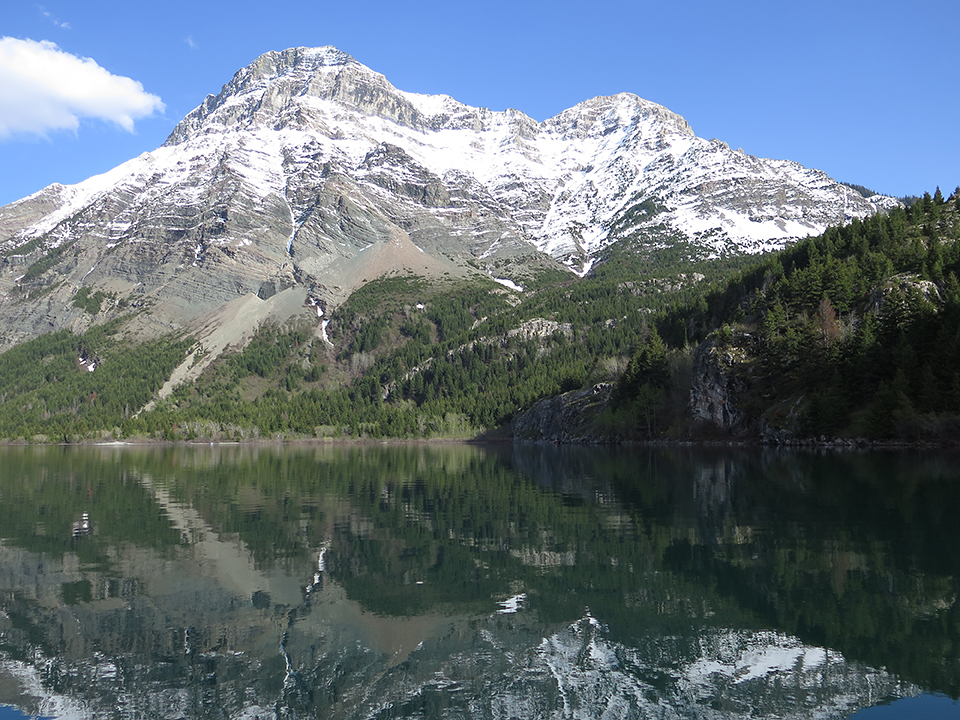 Article References & Credits
Special thanks to Derek Tilson, former Waterton Park Warden, and Norm Hilbert for sharing their experiences from 1975.
Thanks also to Parks Canada for providing the photos of Norm Hilbert and the Park's staff residence, and to Edwin Knox for his photo of Wishbone Landing.
Postcards:
Waterton Lakes (ca. 1935) & Lees Tented Village (1909) – VB Collection