Earlier this week, I had the opportunity to spend a day on the water with my good friend, Herb Vitale, of Lynchburg, Virginia. It had been a year or two since Herb fished for cutthroat trout in BC, so we headed over to one of his favourite streams in the area, beautiful Michel Creek.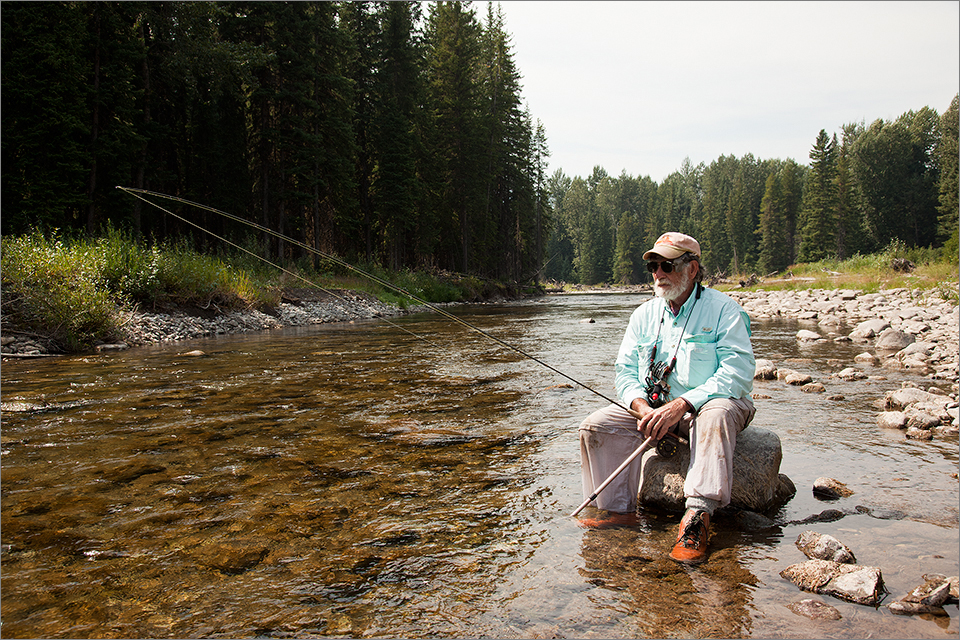 Over the years, Herb has fished some of the finest trout streams in the U.S. and Canada. As a young boy growing up in New York State, Herb spent many a day fishing the waters flowing through the Catskill Mountains, including the fabled Willowemoc and Beaverkill rivers.
Later on, Herb moved to Virginia and quickly discovered all of the wonderful trout waters flowing through the Blue Ridge Mountains. The San Juan River in New Mexico was another place he frequented. Herb also made treks to Montana, Wyoming, and Idaho, where he fished some of the most highly regarded trout streams in North America – those in and around Yellowstone National Park.
During the summer of 1984, Herb travelled north of the border to Calgary, Alberta, to fish the renowned Bow River. Herb arrived a couple of days early and thought it would be nice if he could find a small stream to fish while waiting to float the Bow. He visited a local fly shop and spoke with a helpful fellow by the name of Jim McLennan, working behind the front counter. Jim suggested he try the Crowsnest River, about a two-hour drive southwest of Calgary.
Herb took Jim's advice and made the trip to Crowsnest Pass. He fell in love with the place immediately and returned the following year. Herb's wife, Linda, joined him in 1986 and they have been coming back each summer, ever since. This year (2017) marks their 32nd annual fishing trip to Crowsnest Pass, and it's the 34th time Herb has visited the area. That's an amazing accomplishment, if you ask me. Herb and Linda have many friends around these parts and we hope to see them for years to come!
I have not had the pleasure of fishing in the Catskills of New York, but have seen photographs and images of some of its legendary trout streams, such as the Willowemoc, Beaverkill, and others. Some of these waters appear similar in size and character to ours, and are every bit as beautiful as the Crowsnest River and Michel Creek. I suspect this is something Herb has known for many years, and perhaps it's part of the reason why he enjoys fishing our waters as much as the ones he spent time on in his youth.
Below are a few photos of Herb fishing for cutthroat trout on Tuesday.