This summer I visited Emerald Lake on several occasions to try and duplicate a photo taken in the 1930s by Thomas Gushul, a well-known Crowsnest Pass photographer. Emerald Lake is located along Highway 3, west of Coleman, near the Alberta-British Columbia border. The picturesque lake is connected to Crowsnest Lake via a shallow channel, 50 metres in length. Most travelers are unaware the two lakes are connected, as the highway bridge passes directly above the interconnecting channel, blocking it from view. When Thomas Gushul took his photo, these bodies of water were considered an extension of each other and regarded as one lake – Crowsnest Lake.
The photo Thomas Gushul took shows a perfectly still Crowsnest Lake displaying a perfect reflection of Crowsnest Mountain on its surface. Anyone familiar with the Crowsnest Pass knows it's a rare sight to see the lake as calm as glass. It took Thomas seven years to take the photo, as he spent every spare noon travelling to the lake with his camera. His patience and perseverance paid off on August 27, 1932, when he found the surface of the lake completely still, displaying the reflection he was looking for. That same day, Thomas decided he would like to get another reflection photo, this time showing fresh snow on Crowsnest Mountain with retreating ice and some open water on the lake. He accomplished this feat six years later when on April 20, 1938, he took another perfect reflection photo. A feature article on Thomas published in the Calgary Herald in 1953 described his long quest to take these photographs.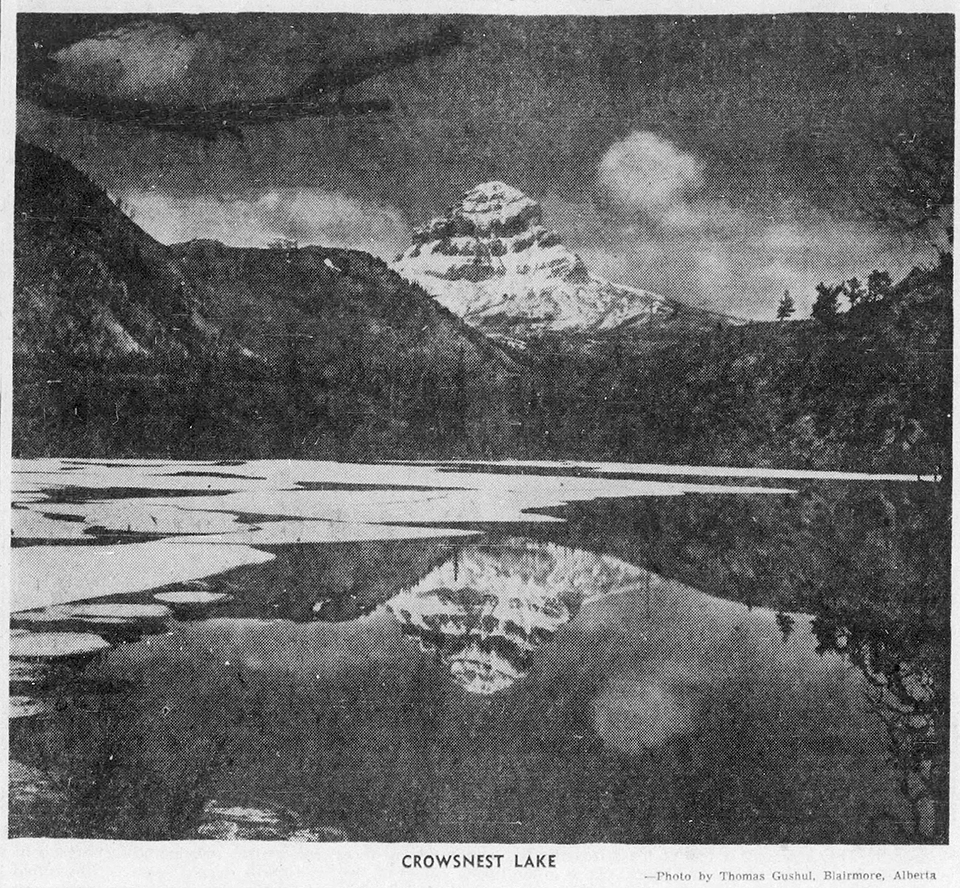 Thomas Gushul was a skilled photographer and took great care when composing his landscape photos. He knew precisely what time of day he needed to be at a location to capture his subject in the best light. One thing he did not know, though, was what the wind would be like on any given day. For the Crowsnest Mountain reflection photos, Thomas needed to be at the lake at high noon, and it had to be calm outside, with no wind.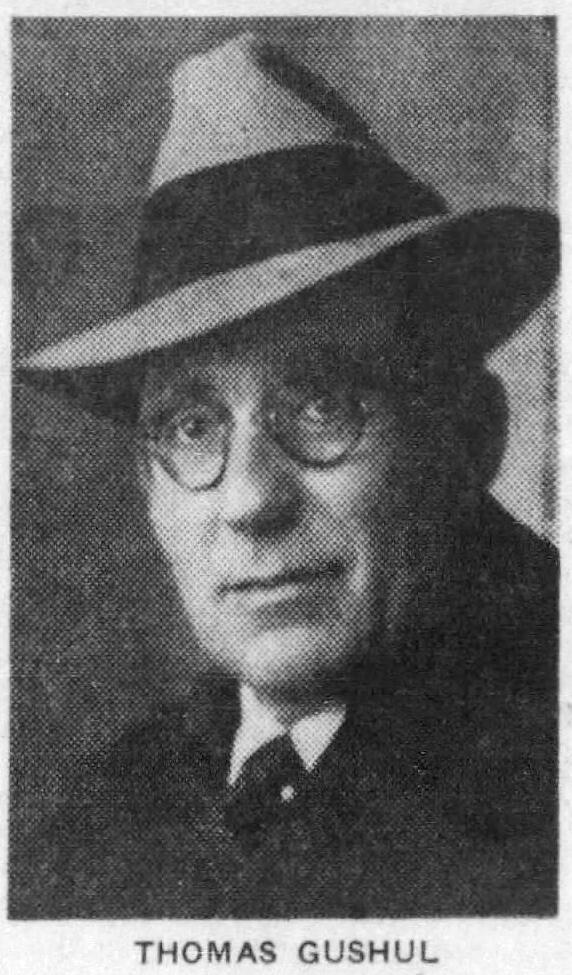 Weather forecasts for the Crowsnest Pass were unreliable in the 1930s. All you could do back then was to head out with your camera gear and hope for the best. Nowadays, it's much easier, especially with hourly wind forecasts available through weather apps you can download to your phone. I did this in early June and checked each day until the forecast called for winds less than 5 km. per hour at Crowsnest Lake at noon. I made 3 or 4 visits to the lake before I found nearly identical conditions as those Thomas encountered on the days he took his iconic images.
Thomas Gushul's reflection photos were taken from the old highway that was blasted from the flank of Mount Sentry in 1917. This section of highway is closed today but it's possible to park and walk along the crumbling, rock and boulder-strewn asphalt. I found the original location where Thomas set up his camera overlooking the lake but trees were blocking the view. I was not surprised by the growth of trees, as it had been more than 80 years since the reflection photos were taken. I ended up moving my camera and tripod about 15 metres from the spot Thomas took his photos.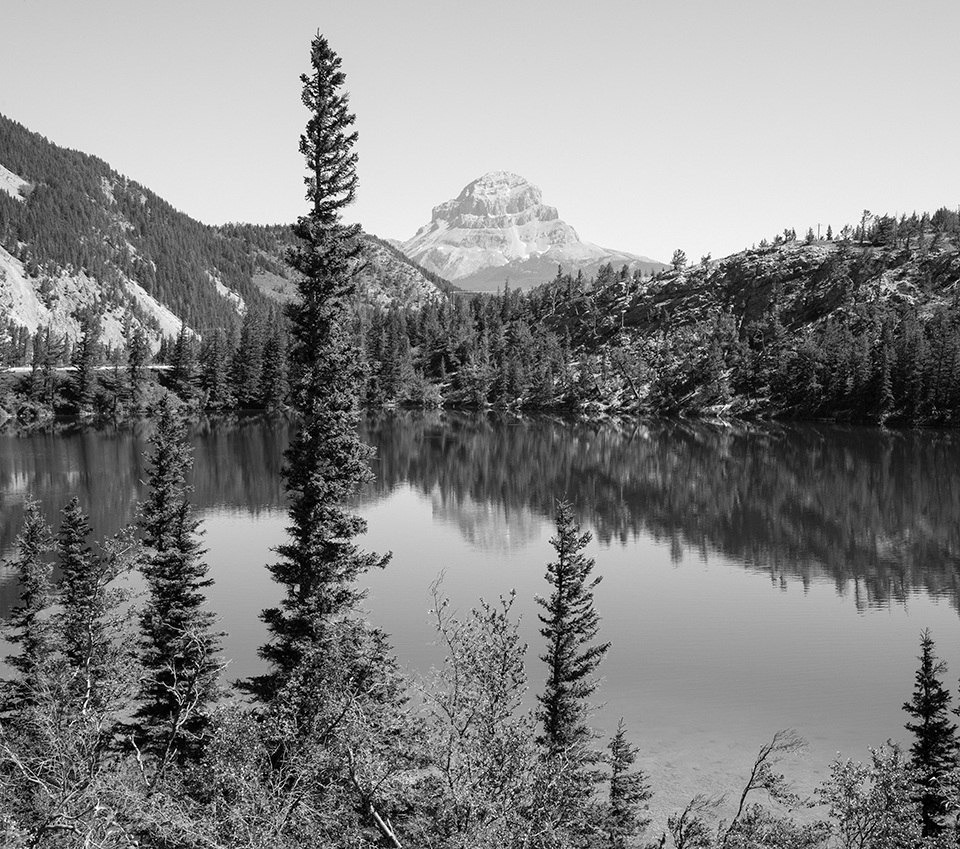 I took several pictures, including a series of vertical shots for a panoramic view of the lake. My photos are not as dramatic as the ones Thomas made and the reflections are not as clear, but I like them. While taking the panoramic photo, two people paddling on the lake in a kayak were kind enough to allow me to include them in the photograph.
The following postcard image of Emerald and Crowsnest lakes was taken before Hwy. 3 was rerouted in 1978. The channel connecting the lakes flows between the rocky, tree-covered peninsulas. The current flows from Emerald Lake into Crowsnest Lake.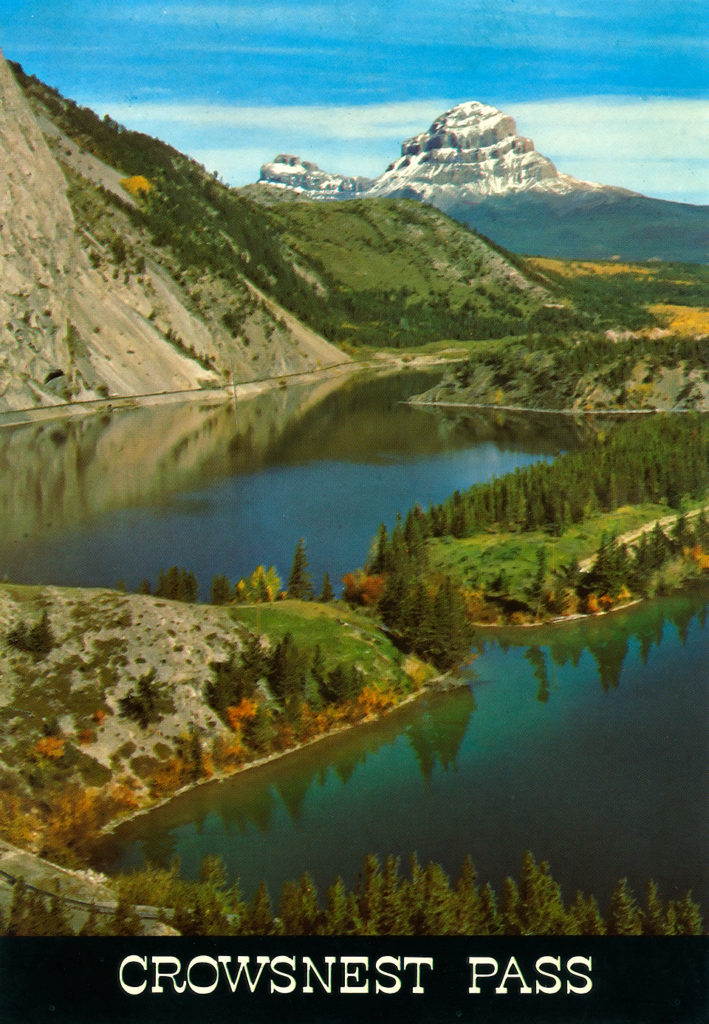 The next photo shows the Hwy. 3 Bridge and the lakes as they appear today.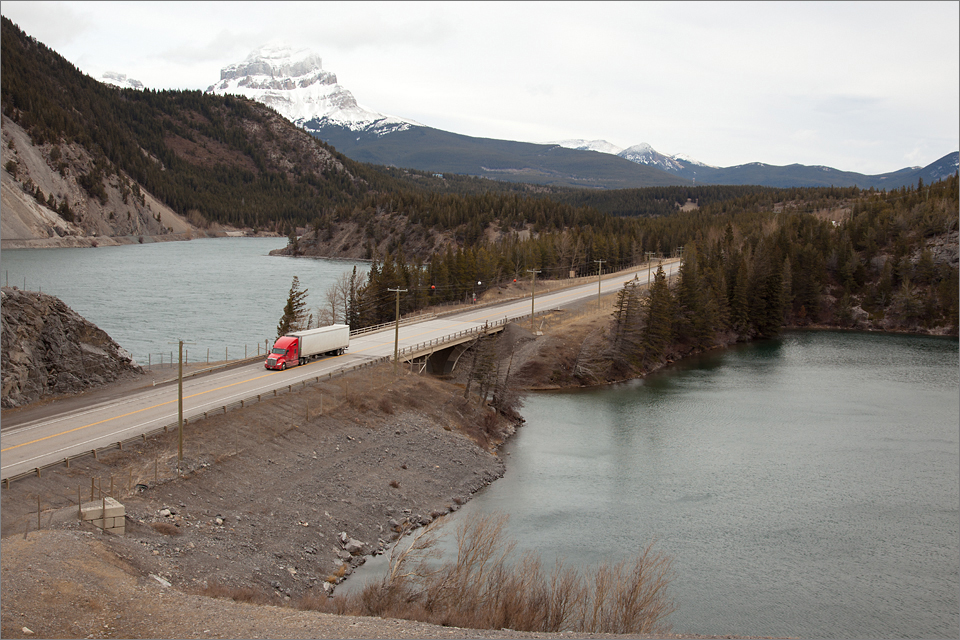 Final Thoughts
My first visit to the Crowsnest Pass occurred in 1970, during a school field trip while I was in grade seven. We stopped at the Frank Slide for a while, before making our way toward Crowsnest Lake. The old highway was still in use at the time and I remember having a window seat in the school bus as it crept along the narrow stretch of pavement along Emerald Lake. As we approached Crowsnest Lake, a classmate leaned over and informed me how the lake was "bottomless" and that a train carrying gold had once derailed and sunk here. He went on to say that because the lake was bottomless, the gold-laden train had never been found. Peering out the window, I could see that the lake bottom disappeared from view a few metres from shore. The lake looked very deep, indeed. I was relieved when the bus passed by Crowsnest Lake without incident.
Article References & Credits
Digital Newspaper Archives – Many Years, Miles To Take Two Photos
Calgary Herald – Nov. 21, 1953
Photos
Thomas Gushul portrait and Crowsnest Mountain Reflection
Calgary Herald – Nov. 21, 1953

Postcard:
Crowsnest/Emerald Lake (ca. 1960-1970) – VB Collection